Custom Island Exhibits Can Cater to Your Business' Message
Island trade show booths have become the choice for some of the higher-end companies to display their brand in unique configurations and include meeting areas. Unlike the standard ten by ten booths, island exhibits offer a platform for additional size areas, where height can catch the attention of attendees across the trade show floor. This choice includes many benefits to outshine the competitors, but there are additional considerations that make island exhibits a more costly choice.
Customization
Custom island exhibits reflect the true definition for customization. A great choice for when your business is attending a large show and needs to outshine your competition, or if simply want to display the unique qualities of your products and services. Island exhibits will elevate your company as a higher profile exhibitor.
The use of an island exhibit opens up the size area so that you can often use twelve and sometimes sixteen feet for the height of your display. Island exhibits also expand the total floor space in sizes from 20x30 to 40x50.
The use of creativity in your design can include:
Rich graphics
Meeting area
Large arena for product display
Video displays
Branding for the height should be at a level where attendees notice it from across the floor. An example of this is the Millenium Company's need for a fast display for the launch of their new product in a 20'x20' island exhibit at a beauty and wellness tradeshow. The requirements included programmable lighting to change the colors (and mood) of the exhibit as well as light weight for ease of set up and shipping cost reductions.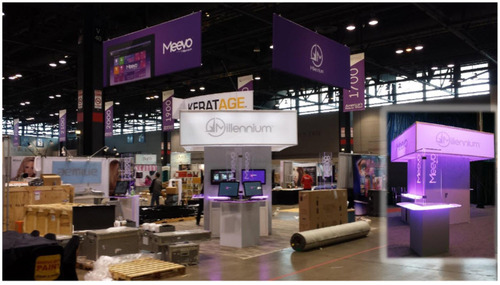 Photo courtesy of ExhibitCraft
The final result was an exquisite aluminum and fabric design with changeable back lighting in almost all areas, including the counter, giving a warm glow to the entire island. The higher crown area offered the logo at just the right height, so that it brought attractive colors from pale blues, magentas and lavenders.
Pricing
Cost is a major consideration, as island exhibits are expensive. Pricing varies based on the need, but they can run from $25,000 to over $75,000 per design. A professional trade show manufacturer will work with you and your marketing gurus to brainstorm a unique look and feel for your display.
A rule of thumb for your decision to own or rent is the number of shows you attend with this display. Consider it an investment if you are going to attend from five to fifteen or more shows per year. However, renting should be an option if attendance is fewer than five.
Additional considerations should include whether you will have to hire a company for setup and breakdown. While some may consider a more modular trade show display, Custom Island exhibits go beyond that standard setup; setup can require staff, tools, forklifts, and even electrical and lighting installations. Be sure to factor in the cost of shipping the entire display as well, especially if you attend a lot of shows.
Preparation
Custom trade show displays can bring an excellent ROI to showcase your company and products, but you will need to have additional staff in attendance to meet the need of your clients and visitors. The representatives will be required to be well versed in all of your services and therefore should be the best staff from your company.
Many businesses use high profile tradeshows to include the attendance of technical and marketing staff as well as customer service. Additional reps may attend to meet and greet other exhibitors as potential partners or to increase other business opportunities. The high cost associated with flight, food and hotel accommodations should be another consideration.
It's important to note that last year, almost all of the award winning trade show displays have been creative and brilliant designs using island exhibits; this brings an opportunity for your company to be high profile and stand out against the competition.
Ready to Compare Trade Show Displays - INACTIVE Price Quotes?