Portable Displays are Small in Space but Big in Popularity
The variety and quality of portable trade show displays has improved considerably in recent years. When analyzing overall trade show costs, the portable trade show booth has been embraced for many benefits, including savings and flexibility.
The increased popularity of a portable booth is demonstrated through innovative technologies and higher resolution graphics. Portable trade show booths are now able to compete on the same level as some of the higher priced booth offerings. While there are a number of portable options available, you need to analyze whether they will fit your line of business and your products.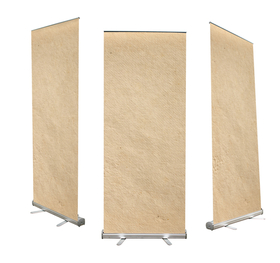 Portable banner stand displays
These displays can take a single marketing idea and through the use of individual or multiple displays, create an entire look. These displays are lightweight, durable and cost-effective for just about any business and excellent for both large and small trade shows.
Banner stands can lend a three dimensional appeal to emphasize your message, all the way to multiples placed together for a larger backdrop look. The newer use of stronger materials and Velcro connection offers quick and easy setup and breakdown. And everything packs neatly into the cases for lightweight shipping.
Due to the demand, the designs and sizes available in portable banner stands are almost unlimited. For businesses that want to focus on customer contact, eye-catching banner stands allow for plenty of room for customer-rep conversation.
This choice has become a mainstay for businesses that use video displays as well as internet-based presentations or products. When a company has additional (and extensive) hardware to display, some of the savvy companies have chosen portable banner stands for ease of set up and room for the rest of the display. The use of banner stands as an interchangeable concept as well as in the case of the three-stand option has become a must-have, especially when you need a situation to use only one or two of the banners.
If you are looking to reduce trade show costs and your display includes a large amount of products, a banner stand display will definitely assist in budgetary considerations. If your business has high shipping costs due to a large quantity of products on display, the portable banner will give ease of set up to focus on the time needed for the products. Examples of some companies using portable banner displays have included greeting card companies, gold and jewelry, gift shows, small electronics, etc.
Table top displays
Table top shows always present challenges for the best way to attract the attention of attendees in a smaller space area while maintaining ample room for your rep and potential customer to discuss business. The portable table top is durable, lightweight and easily stores in a case. The stronger materials and Velcro connections also equate to longevity for your investment.
There are now an incredible array of table top display choices that give your marketing gurus an open field to use their creativity in sizes and shapes that were previously only offered in the high end pricing brackets. Table top displays have limited space, typically offering a backdrop, table and chairs. The variations in size and shape address that always nagging need for more room to talk to the attendees and have informational handouts.
With high quality and lower pricing, companies are turning to table tops displays as an alternative to the expensive and often cumbersome standard backdrop. Faster set up and breakdown is another time savings factor. The table top displays are often used for state association shows, limited or preferred vendor shows and in venues that encompass non-standard set ups, such as banquet rooms.
Portable pop up and panel exhibits
These selections have become a favorite from a wide variety of companies who either want to establish their brand or want to be able to alter the exhibit due to new products and message. The cost savings, lighter weight and ease of installation can accommodate the ever changing needs of your business. In many cases, one message is not necessarily appropriate for every trade show venue or customer group. Portable pop up and panel exhibits give you the flexibility to be more customer concentric, as per the show need.
For organizations that need flexibility, versatility and quality within a budget, portable pop up and panel exhibits can be the format needed. These choices also bring the ability to enhance the message, based on the venue and audience.
Ready to Compare Trade Show Displays - INACTIVE Price Quotes?