Trade Show Display Trends
Technology tools have given us a monumental advantage to capture and keep the attention of trade show attendees. Exhibitors are adding a touch of creativity with a splash of panache to conceive trade show displays that go beyond the imagination and sometimes into genius. As each exhibitor takes the trade show concept beyond the show floor itself, there are various trends and display uses that you might want to select from, to give your organization that extra edge.
Design trends
Straight lines and edges are out and curved, rounded displays are in. In addition, wood floors are no longer considered "old fashion", and are now complimenting touches and bringing a warm and welcoming feeling to trade show booth areas.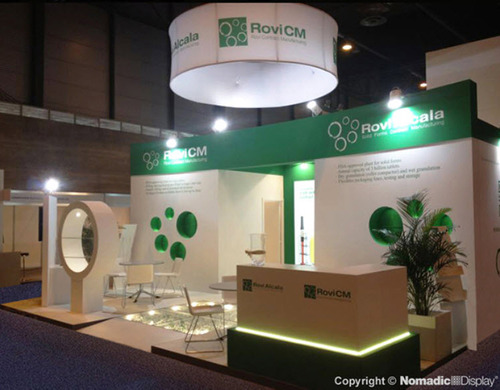 Photo courtesy of Nomadic Display
Glaring bright lights and gaudy colors have been slowly changed over to subdued lighting and cool colors and tones. These are psychologically more appealing and are more welcoming.
The addition of a couch or lounge area in a booth has long been a controversy as an invitation to sit and rest and not necessarily to conduct business. The addition of a charging station, combined with a preset appointment with a potential client lends to a more realistic reason to sit and talk.
Client communication tactics
Trade shows involve a two-way communication method: getting your company info to the decision maker and getting the client info as a lead. The need for fast and efficient communications that don't take up a lot of time and table space continue to change.
Paper marketing is quickly being replaced with marketing documents on a thumb drive with the company logo and web address. This is a good idea for three reasons:
Reduces the carbon footprint
Reduces shipping costs
Replaces the traditional (and often useless and expensive) give away
Other options have included a type of auto-sync technology that the attendee wears around their neck. The exhibitor has a base unit at their booth or via smartphone mobile app that automatically uploads all of the preloaded marketing and informational documents. The exhibitor, in return, receives all of the contact information for the attendee that is later downloaded on an excel spreadsheet.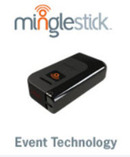 This technology takes the old lead generator scanner to the next level and eliminates the scanning problems. One of the most popular of these devices is the MingleStick.
Tablets have quickly become the method for the quick product demo. The emphasis is on quick, as you have limited time to get your message and product benefits across.
Mobile apps have taken control of the omni-channel world. Exhibitors are using mobile apps to push messages, offerings, show discounts, map of booth location to the attendees. Specific show deal information or coupons are sent to the attendee and can be scanned at the booth.
Contact information for texting and emailing can also be sent to the exhibitor to set appointments with prospective customers.
Email exchange stations are often available from the hosting trade show organization. Typically they are at the entrance of the venue and not easily accessible when attending the show. Some exhibitors are offering a laptop computer at their booth as an email exchange center.
Trade shows give back
Many trade show hosts are working with non-profit organizations such as Wounded Warriors for exhibitors to donate any of the items that weren't used at the show. This saves the cost of return shipping and is an excellent method for everyone to give-back.
Technology
Electronic picture frames are becoming quite the vogue at trade shows. The reduced pricing gives the exhibitor the ability to have multiple frames displaying the various messages and images. Some exhibitors have implemented the frames into the structure of the booth. This choice is an incredible cost savings as if offers the flexibility of loading new pictures and images as the company launches new products and services.
There is an alternative to paying the high cost of internet connection for the trade show booth. The addition of a Mi-Fi router device, using mobile phone connectivity for Wi-Fi, allows multiple devices for internet connection and is billed at a much lower rate.
Offering a technology sandbox for cell phone recharging is another option that has become popular. Typically it is offered in lieu of the give-away and set to the side. It can give an opportunity to talk about your products and services.
Maintaining up to date information on trade show trends and uses will always help to keep your company and display on the leading edge. Instituting unique ideas of your own can help to set you apart from your competition.
Ready to Compare Trade Show Displays - INACTIVE Price Quotes?