Trade Show Exhibit Rentals: Advantages and Disadvantages
When you're searching for the right trade show exhibit, you don't want to compromise on quality just because your budget is limited. This leads many businesses to trade show exhibit rentals in order to manage the cost of attending and presenting at a trade show. This option offers several benefits for businesses working with a tight marketing budget and can be especially valuable for small companies or startups that only present at one or two shows per year.
If you've been thinking about attending a trade show to market and promote your company, consider these key benefits and drawbacks of using trade show booth rentals as part of the plan:
Trade show exhibit rental benefits
Trade show exhibit rentals offer several benefits for small, mid-size and large companies. Renting a booth, display or other necessary supplies can give you more flexibility in choosing a temporary look or theme for a specific event and can also be more convenient to order at the last minute.
Renting may be a good idea if you want to: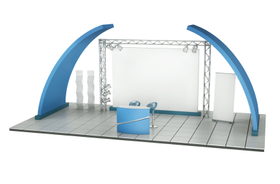 Lower overall costs - Since you don't have to worry about placing a custom order, you won't incur excess fees and materials costs involved with developing and designing a new display.


Cut down on set up and tear down time - Depending on the vendor that you work with, exhibit rental may include installation and dismantling. This is one less hassle that you will have to worry about when setting up a display and promotional materials at a busy trade show.


See your final product well in advance - Renting an exhibit, booth or display means you can browse through a showroom and pick out exactly what you want - and take it back to your office immediately. This type of purchase makes it easy and efficient to put together a last-minute project if needed.


Quickly customize the look and feel of the display - Updating your exhibit with posters, decorations, and other supplies is a fairly simple process and can help you achieve a professional look without having to pay custom fees. Some rental companies may provide more advanced customizations in graphics application and infill panels used for display in workstations and conference rooms.


Choose from larger booth options - Since renting a trade show booth, display or entire exhibit costs significantly less than placing a custom order, you may be able to afford a larger, more attractive display.


Target your exhibit to your audience - Each trade show will cater to its own customer niche. If your company is on a tight budget, you can opt for a trade show exhibit rental instead of choosing between attending two major trade events in your industry. Rental will allow for flexibility and customization at a lower price tag to attend both shows with displays fine-tuned to each audience group.
Trade show exhibit rental drawbacks
While trade show exhibit rentals present several benefits, there are some drawbacks to keep in mind as you make your decision:
Low level of flexibility in size and dimensions - Most rentals can be customized to a point, but you won't be able to change the overall design and dimensions of the pieces.
Limited color and upgrade options - Since you won't be designing a custom product from start to finish, you may have to settle for basic styles and designs.
Limited or no options for custom graphics - Rentals require you to add posters and images on your own, so you won't have the professional touch of logos, banners and other items embedded into the exhibit.
Higher cost over time - If you plan on being a regular at trade shows in your industry, renting an exhibit will cost you more in the long run instead of buying a display booth as an investment.
If your goal is to save on costs and possibly obtain a larger display, renting may be the best strategy for your company. Your overall costs can be lowered, considerably, when you choose to rent. The cost of an exhibit rental is 25% to 30% the investment of purchasing the same display. If your business is just getting started or only exhibits at a trade show once a year, this can be significant savings.
In addition, the money you will save on storage, maintenance, and renovation fees may prove your rented display to be a better choice, overall. Renting your display will allow you to maintain control over your budget, while putting more focus on your product. For example, a standard 10x10 trade show display would that costs $1,599.00 to buy, with additional costs to store and maintain, will cost significantly more than $1,120.00 rent the same display.
When in doubt, consider a rental exhibit to test a new product display at an upcoming trade show. A rental booth will allow you to advertise a product or service in a new market without having to invest in your own trade show display that could cost hundreds or thousands of dollars. When your company is ready to buy a trade show exhibit after testing, you'll know your money is well spent.
Ready to Compare Trade Show Displays Price Quotes?