Advantages and Disadvantages of Used Trade Show Exhibits
If your company is working with a tight marketing budget, trade show exhibits and booth rentals may become a low priority. However, setting up a booth at a trade show makes it easy to market your company and products to potential customers and clients and even promote your brand presence in your industry. Investing in used trade show exhibits presents one solution for keeping to your marketing budget without missing out on the opportunity to stimulate sales.
When you don't have the resources to spend tens of thousands of dollars on a trade show exhibit or display, consider the key benefits and drawbacks of purchasing a used trade show exhibit instead:
Key benefits of used trade show exhibits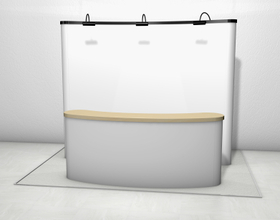 Buying a used trade show exhibit can offer your business several immediate advantages, starting with:
Lower cost - Since you won't be placing a custom order, a used display can cut costs by as much as 90 percent. These savings include reduced costs in consultation fees with the vendor, custom order fees, taxes, and other fees that are commonly rolled into a new retail order. A basic used tabletop exhibit may start at $150, reduced from $600; a portable used kiosk may cost $10,000, reduced from $18,000.


Customizable - In many cases, used exhibits, booths and tabletop displays can still be customized with your company name, logo and banners as needed. You may need to be creative with materials and supplies, but you can still achieve a professional look by adding different pieces to the display.


More options - If you're not interested in developing or designing a brand new display, you'll have hundreds of pre-made options to choose from. Many companies feature their inventory online or in a catalog, so you'll know exactly what the product looks like from the start. If you have access to a showroom, you'll be able to see the final product in person - without having to place a custom order.
Eco-friendly - Your business can continue to stand by its commitment to the environment by buying a used trade show exhibit instead of paying to manufacture a new display. Customers will appreciate your sustainable business practices in using a used or recycled exhibit; many companies are unaware that the majority of trade show displays are made with recyclable materials, including pop up exhibits.
Drawbacks of buying used trade show booths or displays
Buying used trade show displays or booths offers several monetary benefits, but there are some drawbacks when cutting costs with this approach:
Higher risk of breakage without warranty coverage - Investing in used products and materials does run the risk of breakage, and you won't have the warranty coverage to invest in replacement parts if needed.


Limited ability to redesign or restructure - Whether you're investing in a pop-up display or tabletop piece, you will be limited in the overall design, look, and feel of the display. In some cases, display graphics may be worn or outdated. However, you do have the opportunity to add materials and decorative pieces to change the theme and look of your display.


Fewer color options - Buying a used display means you forgo the opportunity to purchase custom colors. Look for something that comes as close as possible to your preferred color palette.


Narrower selection available - Depending on where you buy used, you may have to lower your ideal standards for a trade show exhibit to represent your company. Since used displays are often posted by independent sellers on third-party websites, similar to classified websites, you will have to check listings regularly to find the perfect used exhibit to meet your specifications.
Even when you're working with a tight marketing budget, investing towards the right resources can help increase sales and promote your company. Used trade show exhibits may be a valuable investment for companies that want to maintain a presence on the trade show floor without spending thousands of dollars in a new booth or display.
For small trade show display models at less than $500, buying used may be more trouble than it's worth. An inexpensive trade show exhibit may be better purchased brand-new from a display vendor. Conversely, buying used makes sense for a costlier modular exhibit that includes pedestals, workstations, counters, and a stage at over $20,000. Buying a more intricate trade exhibit used could save your company close to $10,000 off the top.
Ready to Compare Trade Show Displays Price Quotes?