Trade Show Display Ideas for Special Events
Trade shows have been evolving over the last few years. The creation of the right trade show presence has been elevated to an art form, reflecting alterations from a standard booth to a warm and inviting coffee table discussion or conference room get together. Branded events and environments can lend a more intimate appeal that can act as a refreshing change to the sometimes chaotic trade show floor.
The right marketing, message and conditions can bring customers to your booth.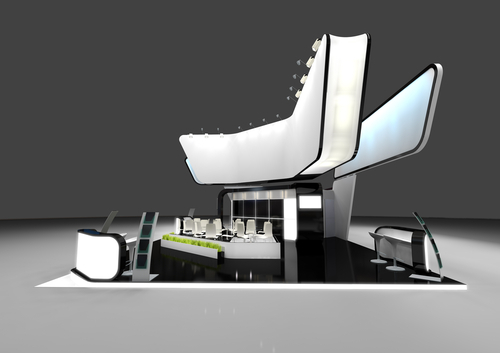 As an approach to differentiate themselves, some hosting organization are now choosing branded events and conference environments for you to showcase your company. Since the purpose is to place a higher level of importance on direct communication with your potential client, there is a much more elevated spin and presentation needed for these events. Your marketing team will need to work with manufacturing professionals to guide, create and change your styling from a traditional trade show booth, to an inviting environment.
Setting the mood
The variations available for a branded event are almost unlimited. The use of bold and exciting graphics, combined with interactive mini-booths will allow your reps to create more personal conversation areas. The new high tech, backlit stacking cubes bring a visual statement that doesn't need a lot of space.
For technology and interactive organizations, you can combine a table in the round with individual screens for demos or gaming. Since the choices of layout and tech are almost unlimited, you need to think beyond the trade show display and treat your area as your own open domain.
Planning
Planning for a branded event is the most important aspect. You want to align your business strategy with the message and client. This is your opportunity to be completely and totally unique, which also means thinking outside of the standard trade show norms. In essence, you can take this moment to create that wow-factor that elevates your products and services above the rest.
Trade shows are all about the visuals, so intertwine and expand on what makes your company different. Skyline explains that 78% of show attendees will be traveling over 400 miles and 81% of the attendees have the authority to purchase. This style of show gives you the chance to set appointments with the decision makers and build a relationship.
Installation and pricing
If you are choosing to create and own your own environment, you will need to keep in mind that there will be extensive costs involved for installation and teardown. This will require a team of professionals for each show and may entail tools, equipment, forklifts and more. Shipping costs should be included in the budget and these can be extensive.
Since each booth is totally customized to your needs, pricing will depend upon the full scope of the display. Typically, the costs can start at $25,000. The considerations can include: booth size, materials, design, graphics, and lighting. The cost for lighting has been reduced in the last few years due to the use of LED lights that offer longevity and an array of color, shade and effects choices.
Event and environment examples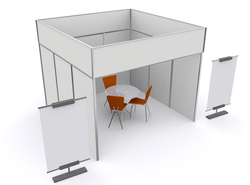 Conference rooms
Conference room styles are great as they create a more personal touch that clients want. The look and feel of your conference room show area can reflect the type of business you project: from elegance and sophistication to a VIP lounge, and from traditional to completely high tech.
Everything is taken into consideration, including lighting, audio and presentation screens. This environment allows your client to focus on your services and products with less exterior interruptions that are found in standard booths. A deal can be discussed, questions addressed and a signature on a contract in comfort and style.
Corporate celebrations
Corporations have been using trade shows as a venue to celebrate specific events. This has been apparent in the way they have selected their show names, blending ideas, celebrating their customer successes and promoting exhibitors.
In America, 50% of the largest shows (200), are held in three city locations: Orlando, Las Vegas and Chicago. These are prime locations for both fun and family entertainment, and corporations have been taking advantage of larger attendance to celebrate and attract new customers.
Success stories
A number of companies are working with manufacturers to design and rent their branded environments. In one case study, Milliken & Company, like many, struggled with the redesign of new trade show displays on a yearly basis, to showcase all of the new products. Their decision to rent offered an option that they hadn't considered: since they were saving on shipping, they had the ability to spend more of the budget on the kind of sleek, professional design they were looking for.
The outcome? An eye-catching display.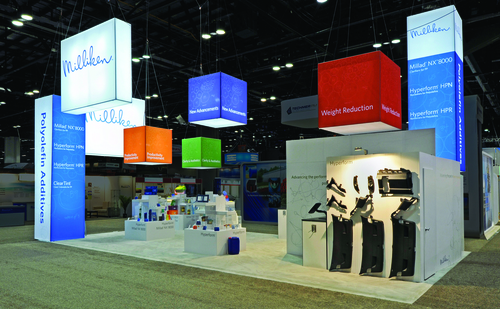 Photo courtesy of Skyline.com
Elevating your company presence at a trade show to a branded or conference room environment sends the message that you are a player. This is the kind of directive that new clients want to hear. After all, everyone wants to be associated with a winner.
Ready to Compare Trade Show Displays Price Quotes?