Leasing a Copier
The average cost of business copiers tend to be out of the price range of small to mid-sized businesses, costing between $5,000 and $10,000 for a basic multifunction machine (top of the line copiers tend to retail for $40,000.) Leasing a copier is a great solution for a small office that needs to compete on the same scale of a larger company. A business or organization can enter into a lease agreement. Such agreements put the equipment on site and provide for future service and maintenance.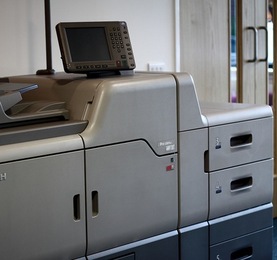 Leasing a copier takes the same time and consideration that you would use if you choosing one to buy. Both are a significant investment for your company. Make sure to take the time to understand the features your office needs and the components of the contract before you sign on the dotted line.
What You Need To Know
The key to leasing a copier is to know exactly what you need before you sign the lease agreement. This will allow you to compare apples to apples when you are deciding on the company from which to lease a machine.
First, estimate the maximum number of copies you will make every month. This is an important part of your lease. You want a number that will cover what your office needs, so you avoid surprising and costly overages when you see your monthly bill. On the other hand, you do not want to pay for a bunch of copies you are not making; it essentially drives up your cost per page.
Next, ensure that you have the facilities to house the leased copier. When shopping for copiers, compare size estimates along with production outputs and functions. You may find the copier that exactly fits your needs and budgets but if it is three inches too long for the space or sticks out too far from the wall, it is not such a great fit for the office after all.
Lastly and significantly, become familiar with service and maintenance agreements. Compare them between copier companies. This can be a huge hidden cost. Copier leasing rates may vary depending on these agreements. Which company will provide toner? Annual services? Emergency calls? What do these things cost? Are they part of the monthly price?
Copier lease rates are dependent on the options, the service and maintenance plan, the length of the lease, and more. The more familiar you are with your needs the better your chances are of finding the right copier at a good lease rate.
Finding the Lease
It is time to shop around. Leasing a copier is one of those things best done close to home if you can. If you have issues with the machine, you will prompt and responsive service. BuyerZone can connect you to sellers in your area. When you're on the phone, ask them their priced per copy, monthly rates and leasing options. Does that price include maintenance and service? What about emergency repair. Make notes and compare answers.
Then, if you can, go to the store or office and try the machine. Ask questions about capabilities and durability. Make sure it will meet the demands of your office. Even if you like the lease terms, you still need a machine that meets your specifications.
Picking a Lease
To make sure you are making an informed decision, consider these five questions:
Do the numbers make sense beyond the short-term?
The upfront cost of a new copier will seem prohibitive to businesses, especially small businesses getting on their feet. However, more established companies about to see the end of a lease term may be better off purchasing a machine that has been working well for staff.
Will the number of copies allowed be enough?
Almost every copy machine leasing agreement quotes a number of copies allowed on a monthly basis. If you are unsure of the figure your company needs on a daily or monthly basis, you might find yourself caught off guard by additional fees at the end of each billing cycle. Conversely, your flat rate may be too high if you end up making fewer copies on average.
Are repairs included in the agreement?
The repair clause may be the most important of all items in a lease. Every company has experienced frustration of malfunctioning office equipment. If you go into a lease knowing you are responsible for all repairs (excepting "misuse"), you'll have to pay significant sums of money to get the copier fixed. Pay attention to what is included in the regular service and maintenance categories, as well.
Are you comfortable with the ramifications of the lease terms?
Copy machine leasing agreements include provisions concerning the end of the term. Will you be able to renew if you are happy with the overall service? Without this option, you could find yourself forced to say goodbye to a machine that was used effectively by your workforce. The opposite applies to leases that have severe policies regarding early termination. Be comfortable with both policies before agreeing.
Is your client and company information safe when the lease ends?
Concerns about information security extend beyond online transactions. Copy machines often store secure information in their hard drives. Ask the leasing company about their policy regarding the protection of your company's interests.
Taking your time to decide on the best copier and affordable lease will pay off for your company in the long term. It is worth the investment to see the value realized.
Ready to Compare Digital Copiers Price Quotes?