Copier Rental Guide
Copier rentals are the default choice for millions of small businesses. Given the substantial price tags for office-grade copiers, it's no wonder: a copier that can operate at 20 to 50 pages per minute and reliably deliver thousands of copies per month can easily cost $3,000 to $8,000 or more. For that reason alone, copier rentals or leases are a popular option - but there are other advantages as well.
In addition to avoiding the significant capital expense involved in buying a new copier, renting a copier gives you a technology advantage as well: many copier rentals allow you to trade up to a newer model at regular intervals, so you can upgrade your equipment without yet another big investment.
Furthermore, when you rent a copier, you also usually get an ongoing maintenance agreement that includes regular cleanings and other preventative services to make sure your copier is always available when you need it.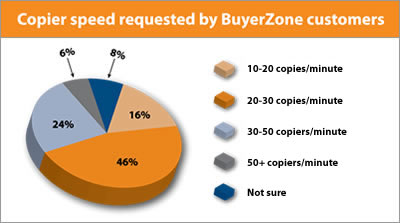 BuyerZone data, Q4 2013
As with most rentals, though, copier rentals can cost you more in the long run. Copier rental agreements are frequently structured with per-copy charges, and may include monthly copying minimums. Be careful-- complex language around minimums can disguise higher costs in the future, so make sure you get the exact arrangement described in plain English. Other types of copier rental contracts allow you to walk away from a machine at any time, increasing your financial flexibility if you can't afford the monthly payments.
What to ask the rental company
All things considered, copy machine rentals can be a great choice for your business - if you select the right dealer with which to do business. Ask questions like these:
How long have you been in the copier rental business?
What's your policy on emergency repairs? Is there a time limit for repair responses?
How many in-house technicians are available for this model in the local area?
How much of your business is in copier rentals?
Whether your are renting, leasing or buying, you are about to make a significant investment in your business. Do not be shy about asking your questions.
Picking your machine
Before deciding on a copier to rent, it is essential to first examine your company's requirements and match copier features to those needs. Estimating your monthly copy volume is the most important step in this process. A copier that cannot keep up with your production volume will be a strain on your work flow, and purchasing or leasing a copier meant for more pages than you actually produce might mean an unnecessary outlay of cash.
Once you have narrowed down your options to those copiers that can handle your monthly copy volume, you will need to consider other features such as the speed, number of trays, duplexing, toner capacity, and the ability to handle different paper stocks and sizes.
Many of the newest copiers have new technologies built in, such as solid ink, expanded paper format capacity, energy efficiency features, and improved color registration. These features may be worth considering even if they add to the overall cost of the unit, since they can reduce waste, save money on consumables, and lead to improved print quality overall.
Normal business copiers that can also scan and fax are not the only type of copier available for rent. Today's color copiers can produce higher quality output than ever before, making them a great alternative to outsourcing your color printing needs. If your company requires a lot of full-color prints and copies, a color digital photocopier is worth renting or leasing depending on your needs.
Rent or lease
Whether it makes more sense for your company to lease or rent a copier depends on a number of factors.
Renting a copier has its advantages. A rental agreement is normally more flexible than a lease, which is usually for a set period of time. While rentals have a period of time, they are usually month to month, allowing you to opt out after six months even if you have agreed up to a year. With a lease, you are stuck paying for remainder of the lease or an early termination fee.
You can upgrade and downgrade your equipment more easily within a rental agreement versus a lease as well. Technology changes fast in this industry and you would be in a better position to take advantage of it. Leasing for a period of time usually means the same machine for the length of the agreement. Upgrades and downgrades are only possible at the end of the agreement, entering into a new one.
Leasing could have tax advantages over renting; ask your accountant. Leasing is a more friendly way to conserve capital, especially if you are confident you can make that monthly payment for the duration of the agreement. Leases also have the advantage of possibly buying the machine at Fair Market Value (FMV) at its conclusion. If your office has discovered a dependable, comfortable producer, it might make sense to be able to keep it.
In the end, you should not decide whether to rent or lease a copier without understanding both your copying requirements and the financial advantages to your company in each situation.
Ready to Compare Digital Copiers Price Quotes?