Should You Choose Ricoh Copiers for Your Business Needs?
Ricoh copiers are one of the most popular brands for the copying needs of many businesses, large and small. The company has been around since February of 1936, making them one of the oldest copier companies in the world. The company makes and sells multifunction printers, copiers, digital duplicators, scanners, and laser printers, as well as providing parts, supplies, and services.
But, are the copiers they make right for your needs? Let's take a look and find out.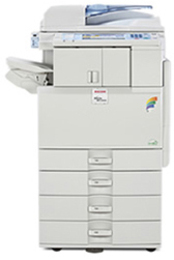 Collective reviews
When analyzing reviews across the web, both editorial and user-generated, one thing seems to consistently float to the top: Ricoh is a brand that's widely trusted.
Cited for minimal downtime, simplicity of use, networking capability, minimal maintenance requirements, and the high quality of support, it's almost hard to find anything negative. Phrases like "easy to manage," "fast, relatively quiet, and flexible," and "never had a problem" are extremely common in relation to Ricoh copiers. All that, and their lease program is exemplary to boot: "We cannot attest to what it is like to own one of these, but leasing them has been a breeze," writes one reviewer.
Following are three machines among those reviewed, each chosen for its specific functions geared toward a range of business sizes.
For small businesses: Ricoh Aficio SP C222SF
The Aficio SP C222SF offers multifunction capability. This is a laser printer/copier that is capable of handling letter-size (8.5 x 11) and legal-size (8.5 x 14) documents, and printing up to 20 ppm. With 1200 x 1200 dpi scanning resolution, this is a multifunction that won't lose any page detail whatsoever.
According to most of the reviews, this is an excellent copier, with the only faults found to be an inability to fax from a PC's desktop and setup for scanning being more difficult than it needs to be. Overall, this unit received four out of five stars in user ratings.
For mid-size operations: Ricoh Aficio MP C3300
The Aficio MP C3300 is capable of output speeds of 33 ppm in both color and black-and-white. Large color files/pages are easily processed with the 1 gigabyte of included memory and a standard 80-gigabyte hard drive. With a paper supply tray capable of holding up to 4,400 sheets, you won't be constantly running to add paper, even when doing large print or copy jobs.
All reviews of this Ricoh copier are very positive, with the average rating given being four out of five stars. Many users point out the easy-to-use web interface for controlling all features of the copier.
For large businesses (or those with heavy print volumes): Ricoh C2051
Like many of Ricoh's machines, the C2051 is a fully-networked printer and copier. Users can control all functions of the machine from the full-function control panel on the unit and through the copier's control software from their office. It's capable of performing duplex (two-sided) color scanning, and can scan up to 44 ppm, in color. Additionally, the copier can carry out the duplexing function automatically, meaning you won't have to stand there and re-feed the pages.
With a 6.4-second first-page output speed, you won't be standing around waiting for your pages to output either. Ricoh's C2051 is also capable of scanning up to 2,000 documents for later retrieval (faxing, printing, or distribution). With two 250-page feed trays (plus a 100-sheet bypass) and easy toner cartridge change outs, this copier doesn't require very much user intervention to keep serving your needs.
According to all the available reviews, this is a hard-to-beat, full-featured color copier that should meet the needs of most businesses.
Copiers from Ricoh are repeatedly rated as some of the best copiers on the market. Whether you're looking to fill the copier needs of a small office or home office, or the needs of a large enterprise, there's a Ricoh model to more than amply suit your copying needs.
Ready to Compare Digital Copiers Price Quotes?