Xerox Copiers for Small and Medium-Sized Businesses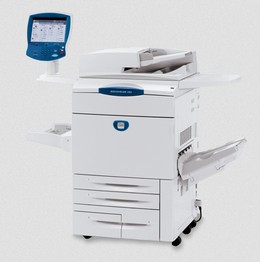 With more and more business technology becoming cloud-based, one might wonder if Xerox copiers, long the mainstay of small businesses, will be losing prominence in the office. For decades, we have heard that the paperless office was on the horizon.
In spite of the great advances in that direction, the paperless world of business has not fully materialized. Many people still want to hold that piece of paper in their hands and make notes on it with a pen.
Convenience remains king
What professionals do want, however, is convenience. Professionals want access to documents and document management systems at any time of day and from any location. If a business owner is in the office, he/she wants that digital copier to be accessible from their desktop, and he/she wants the ability to make copies of documents a customer brings into the office.
Professionals want to be able to print photos in high-resolution color when needed but switch to simple black-and-white printing to save costs. As each new demand has surfaced in the business technology world, Xerox has attempted to maintain the standard of their brand as the leader for office document services.
IaaS and SaaS
Top technology and top service have been the selling points of the Xerox brand for decades, and Xerox hasn't let go of that model when it comes to the cloud. Infrastructure as a service (IaaS) and software as a service (SaaS) are two areas where Xerox is concentrating its efforts.
Cloud-based disaster recovery is quickly becoming the standard for both small and large businesses, and Xerox is right there in the middle of that growing service, offering their own cloud-based storage and recovery options. Xerox has not ignored the mobile devices market either. Management services for that growing business are being offered as well.
Matching business needs to copier features
When looking for the right Xerox copier, try using this general framework below:
Small offices of one to three employees might consider the Xerox Workcentre 5225/5230, a small, standard black and white Xerox copier. This model offers printing and copying with the option to scan and fax. This copier is a good choice if you need a copier for home or small office use, as it handles typical, medium-sized jobs with ease. It prints 25 to 30 pages a minute.
Small to medium-sized businesses might consider the Workcentre 5665 series. Each model in the Workcentre 5665 series has a printing speed of 65 ppm. There are three models in this series and all offer multiple functions which are important to handle in a busy office. The Workcentre 5665 also includes a variety of finishing options: stapling, hole punching, folding, saddle stitch booklet making, and post process insertion. Business functions on this Xerox copier include the ability to copy, fax, email, connect to a Network, print, and scan.
Large or enterprise businesses might choose the most powerful workhorse in the Xerox line of copiers: the Xerox 4595. This excellent copier has a print speed of up to 95 ppm.
| | | | | |
| --- | --- | --- | --- | --- |
| Model | Print Speed (B&W/Color) | Monthly Output Volume | Print Resolution | Price |
| WorkCentre 3210/3220 | 24/30 ppm | 3000 | 1200 x 1200 dpi | $300.00 |
| WorkCentre 3315/3325 | 33/37 ppm | 3000 | 1200 x 1200 dpi | $500.00 |
| Phaser 3635MFP | 35 ppm | 10000 | 1200 x 1200 dpi | $1,900.00 |
| WorkCentre 4260 | 55 ppm | 30000 | 1200 x 1200 dpi | $5,200.00 |
| ColorCube 8900 | 44 ppm | 15000 | 2400 Finepoint | $5,000.00 |
| WorkCentre 7220/7225 | 20/25 ppm | 5500 | 2400 x 600 dpi | $9,500.00 |
| WorkCentre 7830/7835/7845/7855 | 75 ppm | 12000 | 1200 x 2400 dpi | $24,800.00 |
| Xerox Color 560/570 | 75 ppm | 50000 | 2400 x 2400 dpi | $45,000.00 |
| Xerox Color C75 Press | 75 ppm | 75000 | 2400 x 2400 dpi | $69,000.00 |
Leasing a Xerox copier
Xerox offers different financing options to make it possible for your business to get the best possible copier, regardless of your cash flow. One of the most popular options is Xerox leasing. Leasing a copier gives your business financial flexibility and keeps you from having to make a large payment up front. Advantages of leasing include:
Low payments that are spread out over time
Service and maintenance agreements which save you from service bills
Lease termination option that allows you to terminate your lease if for some reason you can't make the payments
By comparing the different Xerox models and considering leasing or buying options, you can see the fast arrival of a new copy machine that will allow your business to operate to its fullest. Contact BuyerZone today and start the search for the best prices from the best places.
Ready to Compare Digital Copiers Price Quotes?