Combine Quality and Cost-Effectiveness with a Flatbed Plotter
In the fields of architecture and engineering there are several key pieces of equipment, namely surveying tools, drafting supplies, laser levels, and a construction calculator. But in modern business, an equally important tool - one proven to deliver cost-savings for an increasing range of industries - is a flatbed plotter.
Essentially a large-scale "printer," it translates computer aided drafting (CAD) images onto large pieces of paper or other mediums. Substantially different than a drum-based CAD printer, flatbed plotters cost-effectively print out full-size blueprints and other large-scale items that would take days or weeks to draw by hand.
Unlike a standard printer, or even the more closely-related CAD printer, both of which use inkjets, a flatbed plotter uses pens to reproduce an image. Creating schematics and similar drawings as wide as 50 feet across, it moves an arm and attached pen over the paper or output medium.
Having evolved over the years, flatbeds are now capable of producing a wide range of print jobs. In fact, they can be used to create a precision pattern or blueprint for almost any flat nonmetallic prototype, including:
Signs
Nameplates
Screen printing masks
Membrane switches
Shoe, garment, or furniture patterns

Models (scaled to size)
Gaskets
Carpeting
Automotive or airplane parts
Key features of a flatbed plotter
Common parts include a flat vacuum bed or table (holding the paper or other medium like glass or plastic securely in place), moving arm, primary pen, spare pens, and pen cartridge. But beyond that, there are a number of specific functions and add-ons that make these a valuable efficiency tool for businesses both large and small.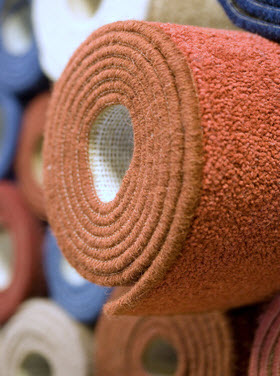 Flatbeds are now capable of producing a wide range of print jobs, even on carpets. REX Photos
If you're interested in one, there are a number of key features to be aware of:
Compatibility
One of the primary features to pay attention to is compatibility with your existing platform and operating system. In particular, make sure the plotter can support the printing language that you normally use such as TIFF 6.0, HP RTL, PDF, and JPEG.
Most flatbed plotters are able to handle a number of common graphic languages (for both PC and Mac) and almost all of them will be compatible with popular programs like CorelDraw and Illustrator, or at least include a plug-in that enables you to work with familiar programs.
Variable output speeds
The overall speed of the flatbed is actually derived from a number of factors. For example, the turnaround time for the printer cartridge is going to be impacted by the drying speed of the ink, as well as the return speed for the cartridge arm.
The data transmission speed is also going to impact how fast your drawings print. To get a quick snapshot of the overall speed, pay attention to the number of square feet per hour that the machine can print.
Vector graphics
Flatbed plotters draw from software programming based on vector graphics, rather than the dot matrix style common in most standard printers. To do so, they use geometrical formulas to produce images as opposed to a bit map that results from a connected pattern of individual dots. This system enables a flatbed plotter to easily scale a drawing, increasing its scope to multiple times the original size without a loss in quality.
Manual/Automatic cutting
Many flatbed plotters have automatic cutters installed, using machine-driven knives to cut materials such as paper, Mylar, or vinyl when printing is complete. This feature is optional however, as other models include a manual cutter that requires the operator to cut the finished work by hand.
Find a quality dealer
Professional flatbed plotter dealers provide both the best deal on your initial purchase as well as the best ongoing support to make sure you get your money's worth in the long run.
Ready to Compare Wide Format Printers and Plotters Price Quotes?