How LED Plotters Compare to Pen and Inkjet Models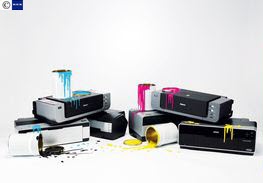 A plotter is basically a fancy name for a high-end printer, one capable of producing the same quality you'd get through a professional print house. But within that niche there are three specific varieties:
Pen plotter
Inkjet plotter
LED plotter
Ultimately, the best one is going to be the machine that fits your business needs. But a number of technological advancements have enabled LED plotters to eclipse the other two for certain business needs.
A quick rundown on pen and inkjet plotters
The pen-type plotter is one of the oldest designs. It works by moving one or more pens across the surface of the output medium, ranging from a variety of paper stocks to Mylar and vinyl. Produced in two different styles, drum and flatbed, both enable you to create high-quality line-art images for signs, banners, and other large-scale publications.
Taking a step up, an inkjet plotter uses a print head to spray ink onto the output medium. Available as either thermal or piezoelectric, they're popular for their ability to reproduce intricate images in absolute clarity - even when upsized to the largest scale.
Unique advantages of LED plotters
LED plotters are similar to conventional laser printers. They use dry toner and a heat source to print images on an output medium. But instead of using a laser as the heat source, these plotters use light-emitting diodes (LEDs). This technology provides a number of quality benefits you won't find in either pen or inkjet plotters, including:
Resolution - The image quality of an LED plotter is substantially higher than that of a full-color inkjet model.


Longevity - Due to the adhesion process, the color clarity outlasts other models. This proves to be one of this technology's greatest strengths, and an especially useful benefit for those who produce signs and other materials left outside or in bright and sunny environments.


Lower overall cost - A fact that can again be attributed to the specifics of the printing process, as well as the cost of ink cartridges for an inkjet printer, the overall cost per page can be 1/10 of an inkjet model, according to some reports.


Speed - LED plotters tend to print faster than inkjet printers, allowing them to complete large jobs more quickly, boosting your output while saving time and money.
Features to be on the lookout for
Some features are standard and some come optional. You can save some serious money by avoiding the bells and whistles you don't absolutely need. Here are some of the most popular standard features and enhancements.
Color options. Some LED plotters only print in black and white while others print in color. Color LED plotters are more expensive and can be difficult to find. However they can also be a real asset to your company as they expand the variety of print jobs you're able to complete.


Multi-function devices. Most LED plotters offer a scan and print function, operating similar to a copier. If you want to add on other modules and functions like faxing and duplex copying, you may need to consider more robust (and expensive) models.


Add-ons and customizations. When shopping around, look for special features that will make your work easier or more cost-effective. For example, certain LED plotters will accommodate multiple page sizes, greatly increasing the types of projects you can take on simultaneously.
Plus, with the inclusion of this feature, you may be able to reduce the total number of plotters you need. Additional features include automatic page cutters, accounting features, page sorters, and the ability to handle different types of toners and inks.
Ready to buy a LED plotter? We can connect you to multiple plotter dealers in your area - free.
Ready to Compare Wide Format Printers and Plotters Price Quotes?