Comparing CAD Printers
A CAD printer is a large-format device used to print computer-aided designs, geographic information, drawings, building plans, and a range of other large-print formats. Also known as a CAD plotter or large format printer, this type of machine can typically be used with any computer setup and operates the same as a standard desktop printer, installed locally or on a network through driver software.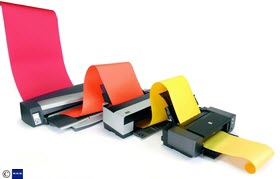 Though noticeably slower than a LaserJet printer, the networking capability of these machines appeals to businesses both large as small. CAD printers allow an extended number of users in a single office to send their print jobs to a central machine. In doing so, they deliver savings on setup and maintenance costs while providing a virtually limitless range in size through paper that's fed into the printer on a roll.
Standard rolls range between 10 to 60 inches in width, or cut sheets that range between 8 and 60 inches wide. The latest machines even accommodate a number of different types of paper, spooled simultaneously, and further cut down on printing time.
Sound useful? Here are a few quick factors to keep in mind when comparing models.
CAD printer benefits
A CAD printer is essentially the best (and sometimes only) way to produce large high resolution artwork. By effectively taking advantage of processing power the machine is able to produce precision printing with fewer manual adjustments often required of standard format printing devices.
In particular, this specialty printer has proven to be quite advantageous to advertising companies and similar in-house marketing departments as it provides the ability to print out signage and similar large-format copies for billboards and banners. For this type of application, you're going to save on the cost of hiring someone to draw or paint a large image or, at the very least, the printing fees charged by a company with wide-format capability.
In addition to that, a CAD plotter has been shown to save hundreds of hours in a single project for contractors and planners, preventing them from manually redrawing maps or building plans each time a change is made. Plus, the intricate nature of the platform makes it well-suited to the precision required in these types of industries.
Popular CAD models and pricing
The more specialized nature of the technology combined with a market that doesn't have wide appeal to the average consumer means there aren't a whole lot of different brands to choose from. In fact, with Kodak's ENCAD bowing out, the number of players here in the United States has been reduced in recent years to just two: HP and Canon.
The HP Designjet T7100 is an example of a machine that has been specifically designed for professionals. In fact, it's also recommended that you have a pro on hand to install it. The T7100 falls mid- to high-range in terms of machine cost, usually in the neighborhood of $10,000 to $11,000, and produces high-quality, low-cost monochrome drawings and documents. This machine has been designed with map printing in mind.
Similarly, the Canon imagePROGRAF iPF825 MFP M40 provides an effective system for printing, copying, archiving, and distributing maps, drawings, and renderings, as well as site and facilities management plans, design and layout proofs and even posters. Plus, it incorporates an industrial-grade scanner that adds versatility to production capabilities by coupling the printer with the ability to scan documents up to 2mm thick. Depending on the vendor you select, expect to pay anywhere from $7,500 to $12,000 for the iPF825.
But if POP, event graphics, and other signage is what you're after, you're in luck. Those machines are a lot more affordable.
HP produces the Designjet Z5200 at almost half the cost of its monochrome model. Retailing for around $5,000, it's been created to improve the cost-effectiveness and output of in-house marketing initiatives. It has a maximum print length of 300 feet (nearly the length of an entire football field) and it can print on almost any medium, including photographic paper, proofing, fine art printing material, self-adhesives, banners and signs, bond and coated materials, backlit items, and fabric or textiles.
In the same way the Canon imagePROGRAF iPF8400 features an advanced color calibration system as well as a number of helpful tint and tone adjustments, beautifully reproducing even the most intricate images. Plus, it features a "highest print" mode, during which the order of ink application and layering is optimized to maintain the highest print quality with fewer passes, nearly doubling the output speed when compared to other models. Expect to pay anywhere from $4,000 to $7,000 for this machine.
BUYERZONE DEALER TIP: When shopping around for a CAD printer, consider the brand reputation, the size of the built-in hard drive (160 to 250 GB is standard), resolution of the picture, color strength of the picture, size of the picture, and overall cost (including consumables).
A CAD printer allows you to let your imagination run wild and achieve more with greater ease. Whether you're in the building industry or are a creative professional, this magnificent machine will make your life easier and dramatically boost the professional appearance of your work.
Ready to Compare Wide Format Printers and Plotters Price Quotes?