Golf in Style with Custom Golf Carts
The standard golf cart holds two to four people and their clubs. However, as more and more people purchase these vehicles for personal use - getting around a neighborhood or gated community, for example - custom golf carts with all kinds of accessories are becoming more and more popular.
Custom golf cart options
Some two-seater golf carts can be outfitted with a rear-facing bench seat that lets them carry four people. While low-end models are open-topped, most custom golf carts are upgraded with a roof and windshield. Expect to pay $200 to $400 for a top and roughly $200 for a windshield. A rain enclosure - usually roll-down plastic sides - can be a nice extra in wet climates.
Other popular options for custom golf carts include fancy wheels and tires, paint jobs in flashy colors, camouflage patterns, or other custom designs, power outlets, radios, and more comfortable or adjustable seats. Don't feel compelled to purchase every accessory right off the bat: In most cases, you'll be able to buy a fairly basic golf car at first, and customize it over time.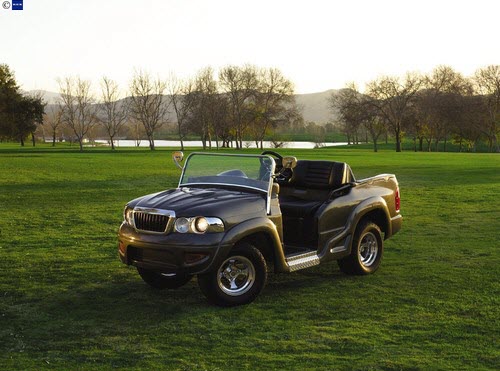 How to customize a golf cart
Many vendors will allow you to customize your own golf cart using a handy online tool via their website. You may be given a wide selection of customizable options that include:
Standard or lifted height
Roof color
Body color
Seat color
Standard or decorative wheel
Regular or tinted windshield
Further upgrades can be made based on the many accessories listed above. Luxury custom golf cart dealers may also offer customizable bucket seats, off-road tires, a built-in golf bag holder, AM/FM stereo or CD player, under hood cooler, decorative padded roll bar, turn signals, and fog lamps.
Accessory upgrades can range in price from $100 for fog lamps, $300 for a decorative roll bar, $400 for off-road tires, and $600 for a rear golf bag holder and hitch. A high-end electric custom cart with upgrades can cost as much as $16,000, up to $17,000 for a gas-powered cart. A basic gas-powered custom golf cart may cost as little as $4000, up to $7000 for an electric model.
Legality of custom golf carts
Basic golf carts are generally not street-legal. When outfitted with appropriate safety features, though, including turn signals, headlights, brake lights, a windshield, and seatbelts, custom golf carts can meet the requirements of some localities. There is little federal legislation governing the use of custom golf carts that operate at less than 25 mph, so states, counties, cities and towns are mostly free to make their own regulations.
Some communities actively encourage the use of custom golf carts as the primary mode of transportation. For example, some retirement communities focus on golf: They encourage their residents to drive their golf carts from home straight onto the course. Other communities simply prefer the quiet, low-pollution golf carts and take measures to promote their use within certain boundaries. In these locations, you may even qualify for a rebate or tax write-off for using an electric vehicle.
Additionally, an electric custom golf cart is recommended since it requires significantly less maintenance than a gas powered vehicle. An electric custom golf cart is easy to charge after daily use; a single battery can last 3-4 years in a warm climate and 4-5 years in a cold climate.
Ready to Compare Golf Cars Price Quotes?