Buying Used Golf Carts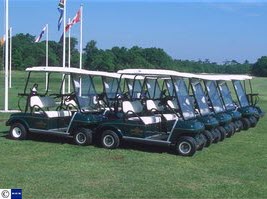 Because country clubs and private golf courses upgrade their golf cart fleets every few years, there is a steady supply of used golf carts on the market. For many businesses, buying a used cart is the economical choice. Here are some points to keep in mind as you shop for used golf carts.
How used is that golf cart, exactly?
There are two tiers of used: refurbished golf carts have been taken in by the manufacturer or dealer, inspected, cleaned, and in some cases reupholstered. Dealers often sell refurbished golf carts with warranties, giving you additional peace of mind - for at least the 30 or 60 days the warranty lasts.
When buying refurbished golf carts at a dealership, you may be able to choose extras like different types of seats, safety equipment, and even custom paint jobs or upholstery. Of course these extras will cost you, but saving money by purchasing a used golf cart can create some room in your budget.
You can also buy used golf carts "as is." Dealers will still inspect them for obvious damage, but they won't have the comprehensive overhaul that a refurbished vehicle would have. As-is golf carts are not typically sold with any warranty at all.
Whichever route you choose, make sure you talk to several reputable dealers before you make a decision. Golf cart dealers are the best source of used golf carts - and BuyerZone can connect you with leading golf cart dealers in your area completely free.
Once you talk to the dealers, pick 2 or 3 to investigate further. Visit their location and take a test drive of the model you want. First, inspect it carefully - look for any signs of rust or wear, and ask what parts have been replaced or repaired. Then, pay attention to how it drives, especially up hills or with a full load of people and equipment.
How much are used golf carts?
Used golf carts can be found for as little as $2,000. You'll rarely find anything for much less than that - at least, not anything you'd want to depend on. But since new golf carts start at around $4,000, buying used will save you a considerable amount of money. You'll still pay more for fancier models with more extras, but prices will be less than half what you'd pay new.
Because almost all new golf cars purchased by country clubs are electric, you're unlikely to find used gas powered models for sale at a decent price. If you absolutely need a gasoline engine - for use on a farm, for example -- you may be better off purchasing a new model.
Ready to Compare Golf Cars Price Quotes?