Sample Golf Cart and Utility Vehicle Prices from BuyerZone Buyers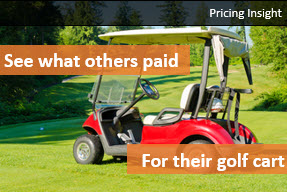 Many BuyerZone users have asked to learn more about golf cart pricing. Here's a sampling of actual prices paid by golf cart and utility vehicle buyers who used our service.
A couple of points to keep in mind:
New vehicles in our survey ranged from $4,700 to $15,000. In addition to providing the best reliability and warranties, purchasing new lets you choose the options that are most important to you: lift kits for ground clearance, enclosures for protection from the elements, and more.
The average golf cart - electric, with a top and windshield, goes for between $5,000 and $7,000. This will get you a basic electric cart and some useful add-ons such as a cooler or club covers.
Buyers reported purchasing used vehicles for between $2,500 and $5,000. If you're interested in used vehicles, make sure you get a reconditioned cart from a dealer - buying an as-is cart is a risky choice.
Many buyers mention windshields, headlights, and other safety equipment as an important part of their purchase. Making your golf cart street legal requires these and other options - and it will add substantially add to your costs.
New golf cart prices
"Purchased a Club Car 4-seater with fold-down option and enclosure. Total price was $6,450."
-- Ridgeland, South Carolina
"$8,400. For a new 2013 RXV EZ-GO. Electric model with a 48 volt DC battery. Standard Forest Green, and welded steel with DuraShield epoxy coating"
-- Elizabeth City, North Carolina
"$7,000. 11hp gas golf cart with lift kit, flip-back seat, brush guard, headlights, tail/brake lights, turn signals, rear-view mirror, seat belts, windshield, towing package, and extended top."
-- Apalachicola, Florida
"Yamaha 2006 g22, gasoline, with light kit, full side covers, and shipping to my door -- $4,645."
-- Las Cruces, New Mexico
"$6,177. 4" lift, 23" tires, lights, high speed motor, top, windshield, pin stripe, and company name stencil."
-- Pembroke Pines, Florida
"Bought an electric E-Z-GO with a basic package: headlights, and horn, but no outside cover. Total price was $9,000, delivered."
-- Hiawassee, Georgia
"Approximately $5,000 for a gasoline-powered golf cart with light kit and windshield."
-- Port Washington, Wisconsin
"Purchased a top of the line Western vehicle - $14,000."
-- Naples, Florida
"Around $9000, 2006 electric President, 10" chrome wheels, custom seats, key security system, rain curtain, custom dash, color upgrade (burgundy), ball/club washer, beverage cooler, split windshield, light system, canopy top, charger, full view mirror, programmable speed control and braking. "
-- San Jose, California
"$5,000. E-Z-Go electric car with top, rain cover for clubs, cooler, divot bottle and holder, headlights, taillights, and rear view mirror."
-- Union, Kentucky
Specialized utility vehicle prices
"$17,000 with cab, lights, windshield, hitch." [ Burden carrier.]
-- Brooklyn, Michigan
"$14,500 - personnel carrier w/fold-down windshield, top, fold-down rear seat, rear hitch."
-- Henderson, North Carolina
"$9,890 - new hunting cart. 4wd, camo, gun rack, lifted."
-- Fenelton, Pennsylvania
Used golf cart prices
"2002 Club Car. Reconditioned, 48v, hinged windshield, 3 sided snap/zipper cover, club protector, 2 sand bottles, headlights taillights, propane heater and 5 panel mirror. $3,653."
- Clarksville, Georgia
"$4,000 with an 8" lift kit, bigger tires/rims, fold-down rear seat, front brush guard. Cart was a 2003 [gasoline powered] Club Car"
-- Milton, Florida
"$3,600 refurbished 2010 Yamaha gasoline golf cart. Great condition for a used machine. New upholstery, lights, rims, and tires. Got a deal with trading in our old golf cart.2"
-- Shrewsbury, Massachusetts
"$1,800 used 2008 EX-GO PDS 36 volt in great condition, with white body with tan sun top and seats. Folding windshield and charger were included"
-- Fernandina Beach, Florida
"$1,200 1998 used TXT model in great condition. White upholstery and body, custom rear seat, and twin 4 cylinder 4 stroke gas engine."
-- San Francisco, California
"$2,800 -- 2001 Club Car with our own color choice, enclosure, and 1 year bumper to bumper warranty for parts, labor, pickup and delivery. Car had minimal use -- in great shape."
-- Tyrone, Georgia
"2002 [gasoline powered] E-Z-Go 4-seater, 6" lift, custom tires and rims, under $4,000."
-- Cottonwood, Arizona
"$2,500 for 2003 Club Car 48 volt with windshield and new tires and wheels in excellent condition."
-- Pecos, Texas
"Club Car 2003 model. Street legal, $5,000. Too good a deal to pass up with all the add-ons."
-- Shelton, Washington
Want more information on choosing an utility vehicle? Read our Golf Cars Buyer's Guide.
Information was provided by BuyerZone users. Quotes have been edited for clarity only.
Ready to Compare Golf Cars - INACTIVE Price Quotes?