Creating a Moving Budget 101
Budgeting is important in almost all areas of life. It's no different when it comes to moving. There are many expenses that are likely to be involved in your move. If you know what they'll be and budget accordingly, your move can go much smoother.
According to Worldwide ERC, the average residential move costs a shocking $12,230, as of 2010 figures. To keep expenses to a minimum, it's best to track everything in a spreadsheet. This way, you can record all of your costs down to the penny.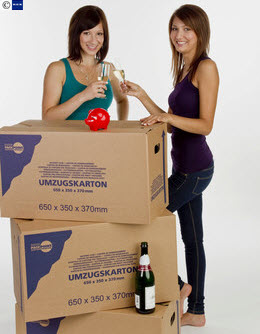 Moving doesn't have to be stressful. These budgeting tips can help.
Here's where to begin:
1. Add up expenses prior to moving.
First, consider any costs that will be involved in leaving your old home, such as final home repairs and termination fees for your lease, utilities, etc.
Next, figure out how much it will cost to actually move your belongings; this means the cost of hiring a mover and/or other moving services. To get the best price, you should get estimates from at least three different movers.
TIP: The cost of using a moving company includes more than just the estimate. Also consider insurance costs, potential extra charges, etc.
Average pre-moving expenses may include:
Old house expenses (Lease termination, closing costs, professional cleaning, last month's utility bills) - Cost will vary.
New house expenses (Utility deposits, security deposit, pet deposit, parking fee, property tax)- Cost will vary.
Full-service movers - Estimated at $1800-$2500 for a 4 bedroom house.
Self-service moving - In-town truck rental rates start as low as $19.95, plus mileage.
Moving truck insurance - Estimated at up to $150.
If you're hiring a moving company, you shouldn't have to worry about equipment and supplies. These might become a factor, though, if you're renting a truck to do the move yourself. If this is the case, think about the costs of renting dollies and other equipment, as well as materials like boxes and other moving supplies.
2. Calculate expenses during the move.
During-the-move expenses could include things like gas, food, and hotels during your drive. Take a look at a gas calculator like this one to help figure out fuel costs. The cost of fuel will be even more of a concern if you're renting a truck. Other expenses to think about include self-storage and auto shipping.
Average moving expenses may include:
Gas - Estimated at $4 per gallon, multiplied by total trip mileage.
Hotel - Estimated at $90-$150 per night.
Self-storage – Small 5' x 5' units start at $40 per month; 20' x 20' units start at $225 per month.
Auto shipping - Compact car shipping cross-country ranges from $600-$1000; truck or SUV car shipping cross-country ranges from $800-$1100.
If your move is taking you a little further, you may have to factor in airfare and other transportation costs. For instance, you may need to hire a taxi to take you to and from the airport. Airfare costs will vary depending on distance; taxi fares can range from $.85-$5 per kilometer.

Licenses, voter registration
3. Don't forget expenses after the move.
Unfortunately, just because your move is over, it doesn't mean you're done with moving expenses. You'll still need to think about:
Security deposits
Fees for getting utilities started
Cost of parking permits
Prices of things you'll need to buy for your new home, including food
Add up all these costs, and you should have a pretty good idea of how much your move is going to cost in total. If, though, you want to be on the safe side, add an additional 5-10% on top of the total. This will cover any unexpected expenses that you encounter during the move. Then, you should be able to see where your money is going and make adjustments as necessary.
Moving prices will range greatly, depending on home size and distance. Moving 664 miles from Dallas, Texas, to Denver, Colorado, from a 4 bedroom house could cost an average of $7300. If you are moving in the busy summer months, a summer premium of up to $800 could apply to bring your total to $8100.
If you're hoping to move on a dime, try to do-it-yourself whenever possible. However, it is still important to consider how much your time is worth. In many cases, hiring professional movers to pack, load, and move your belongings can be much more economical than spending days or weeks trying to move your house yourself.
Ready to Compare Residential Moving Services Price Quotes?