Finding the right self-storage facility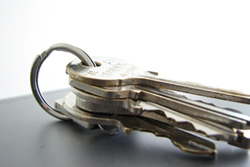 Photo by Movers.com
No pun intended: you can't put moving into a box. Each and every relocation is going to be different. Some of them aren't going to require a storage facility and some of them are. There are quite a few types of storage facilities out there, so pick the one that is right for your move.

Licenses, voter registration
First of all
The stress of moving may lead some of us to make snap judgments. These can cost money. Careful planning is always the best route, in this case, when it comes to storage. There are a few things you should consider before putting a bunch of your stuff in a storage facility.
More storage space results in you paying more money. Don't move or store things you don't want or need.
More time in storage also means more money.
There is always the option of portable storage (see below).
Always get more than one quote.
TIP: A garage sale could actually make you money, not to mention cut down on waste and the weight of your total shipment.
Things to look for and ask about
You always want to physically visit a storage facility before you decide to put your things there. First impressions mean a lot; if the place looks dirty, rusty, or otherwise not well-maintained, you probably want to go elsewhere for your needs. The way the offices look will also tell you something about how the business is run.
Security will be an important concern for you, and some facilities offer more than others. How much of a concern you have will depend on what you are storing, but any facility should be able to comfortably and clearly outline their policies and procedures for you.
Lastly, what do they allow, and what is prohibited? This will vary from location to location.
Specific needs and facilities
Automobiles - Some storage facilities specialize in cars. Others will allow you to store your car in addition to other things.
Boats - Generally located near the water, these facilities offer weather protection in the off-season.
Wine - Temperature-controlled wine facilities ensure that your best bottles won't go to waste.
Smaller facilities - Important documents or jewelry can be stored at high-security, small-space facilities.
Climate-controlled facilities - Ideal for antiques and other priceless possessions, these facilities keep everything at a constant temperature and humidity, and don't allow outside air or dust inside.
Portable storage - Portable storage is packed by you. From that point, a facility can store it on their grounds or deliver it to your new location. You will be responsible for unpacking. This is generally a lower-cost storage option.
There are numerous factors that will influence your decision about self-storage. Space, time, and the items themselves are all things that need to be considered. But, once you've got everything in a place where you know it will be safe, you will have a few less things to think about.
Ready to Compare Residential Moving Services Price Quotes?