Ten questions to ask your potential mover
When you move, you're entrusting a lot to your movers. You'll want to make sure that they are a legitimate, trustworthy, and capable company. Here are some questions you should ask potential movers beforehand that will help you decide who to go with.

Licenses, voter registration
Background Checks
Looking at a company's history will tell you a lot about how reliable they are:
Ask how long the company has been operating. Being in existence for many years doesn't necessarily mean the company is reliable, but it can be a good indicator that they have experience.
Seek out references. Ask your mover if they can provide you with proof of good service, and check out online reviews and ratings.

TIP: The Better Business Bureau and the American Moving & Storage Association should be able to give you some insight into a company's reputation.

Check the company's credentials. You should never use a mover that isn't licensed and insured. Verify their U.S. Department of Transportation (DOT) number to make sure it's legitimate.
Determine the Cost
How much your move is going to cost is probably a top concern for you. Determining estimates and fees from potential movers can help you find a reliable moving company with affordable rates:
Find out what kind of estimate(s) your potential mover offers: nonbinding, binding, or binding-not-to-exceed. The actual cost can differ from a nonbinding estimate if the weight of the shipment is different than estimated. With a binding estimate, you'll pay exactly what is estimated. Binding-not-to-exceed estimates are the best, since the actual cost can be lower if the shipment weight is less than estimated, but it cannot be more.
Find out how you will be charged. For example, the cost of long-distance moves is usually determined by shipment weight, while local move costs are determined by man-hours.
Protecting Your Assets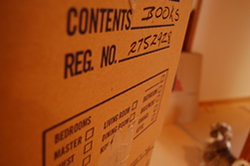 Photo by Movers.com
Next, since you'll want your stuff to be well protected during the move, you should ask a few questions pertaining to that topic:
Ask your potential mover how they'll go about protecting your old and new homes. They should give you some information about their moving techniques and the supplies they use to keep your home free of damage.
Find out about how the company protects their workers. You want to make sure that you won't be liable for any injuries sustained during the move that aren't directly your fault.
Once you nail down information about protecting homes and people, you'll want to know how they'll protect your stuff. Ask about the packing and loading processes and about what equipment and supplies they use.
Hopefully, none of your belongings will be lost or damaged during the move, but, if something is, you should know ahead of time about the claims process.
Finally, ask about timeframes. When will your stuff get picked up and dropped off? Local moves often go quickly, while long-distance and international moves can take longer.
These questions should help you get a sense of a moving company's reputation and their rates and policies. Being knowledgeable about these subjects in advance will help you weed out the illegitimate or inept companies, helping you hire a good mover at a good price.
Ready to Compare Residential Moving Services Price Quotes?