The different types of moves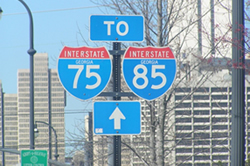 Photo by NotYourEve, sxc.hu
There are many different types of moves and moving services out there. Knowing about them all will be of great importance when it comes time to move. You'll be able to understand how to approach the move, and you'll know which moving services you'll require.

Licenses, voter registration
Local moves
To be considered local, your move must meet two requirements. First, your old home (the origin) and your new home (the destination) must be in the same state. Secondly, the origin and destination have to be within a certain distance of each other. Individual movers determine that distance, but it usually falls within a range of under 50 miles to 100 miles.
Most local movers charge by the man-hour. To determine man-hours, multiply the number of workers by the number of hours it takes them to complete your move.
Long-distance moves (intrastate)
A long-distance, intrastate move falls within state lines but is over 50 or 100 miles from origin to destination (again, this is determined by the individual mover). There are two types of long-distance moving services:
Full-service - The movers take care of packing, loading the truck, driving the truck, unloading, and unpacking.
Self-service - You take care of the packing and unpacking, while the movers do the loading, driving, and unloading.
Long-distance movers usually charge by the weight of the shipment.
Long-distance moves (interstate)
This is another type of long-distance move, but, as its name indicates, these moves cross state lines. Distance doesn't matter in this case; if your move is going from one state to another, it's an interstate move.
International moves
Any move that crosses national borders is an international move. This includes moves to Hawaii and Puerto Rico or that go through Canada, coming from or going to Alaska. These moves can be the most complicated, since you have to deal with customs and the policies and regulations of your destination country.
International movers charge by the total volume of your shipment.
Photo by GMDee, sxc.hu
Auto transport
There are two options for auto shipping:
Open-air trailer - You've probably seen these big trailers, filled with cars, driving down the highway. This is the cheapest option for auto shipping.
Closed trailer - Closed trailers are more expensive, but offer better protection for your vehicle against dirt and debris from the road as well as the weather.
Special movers
Special movers handle particularly valuable, fragile, or bulky items. Some of these companies deal with many specialty projects, while others handle just one specific area. There are special movers for pianos, artwork, motorcycles, plants, pets, billiard tables, and more.
Corporate relocation
Corporate moving companies don't just pack up your files and desks. They coordinate the move in such a way as to limit interference with business. In other words, they work with you and your business to make your office relocation as smooth as possible.
Truck rentals
If you want to save some money on your move, you can rent a truck and drive your stuff to your new home yourself. There are many different truck sizes available to fit your needs.
Moving labor
If you rented a truck or have access to one in some other way and you don't want to do all the heavy lifting, you can hire moving labor to do it for you. You'll take care of the packing and unpacking, while they do the loading and unloading.
Self-storage
If you aren't moving into your new place right away or won't have room for all of your stuff, you can take advantage of self-storage. These facilities give you a place to store your stuff until you need it. Some even provide you with climate-control and security options.
The average American moves about once every 5 years, so, chances are, you'll be needing one or more of these services at some point. Having some knowledge about what these services are all about can help you find reputable moving companies.
Ready to Compare Residential Moving Services Price Quotes?