The Future of Mobile Payments
With consumer shopping behavior changing dramatically over the last couple of years, thanks in large part to the increasing adoption of mobile devices such as smartphones and tablets, retailers have been forced to alter their businesses to cater to a more digital clientele. From implementing strategies to combat showrooming (which I've addressed in a previous column), to investing more money and resources into mobile-optimized websites and apps, retailers have taken steps to succeed in today's digital age.
They recognize how critical it is to give consumers the opportunity to engage and interact in multiple channels, when they want and how they want.
Retailers Moving Towards Mobile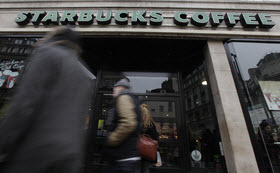 Starbucks sees more than 3 million mobile transactions per week. REX Features
Wal-Mart, the country's largest retailer, recently announced that it's adding its iPhone "Scan & Go" feature to its brick-and-mortar stores in 12 more markets. The pilot program allows shoppers to scan items with their iPhone and then pay at self-checkout counters, bypassing traditional registers. The program will soon be in more than 200 stores. Wal-Mart is also a founding member of theMerchant Customer Exchange(MCX), a mobile payment network.
Joining Wal-Mart are big-name retailers such as Best Buy, Lowe's, CVS, Target, among others. The group aims to create a way for customers to pay for their purchases with their smartphones. The retailers that comprise MCX have over $1 trillion in annual sales and best know consumers' shopping habits and payment preferences, making it an easy decision for them to work together to find an optimum mobile payment solution.
MCX is joining a rapidly growing marketplace, however. Square is a technology startup in the mobile payments space, and it signed a partnership last year with Starbucks. Square now processes all credit and debit card transactions at Starbucks stores in the U.S.
In addition to Square, Google Wallet, PayPal, Dwolla and Clover Pay are the other leading players in the mobile payments space.
Is Mobile Taking Over?
While the mobile payments arena is growing rapidly – Forrester Research forecasts that U.S. mobile payments will reach $90 billion in 2017, a 48 percent growth rate from the $12.8 billion spent in 2012 – the technology still poses a challenge for many retail brands.
According to a recent report from RSR Research, uncertainty about the technical future of mobile payments was named as a top business challenge by 76 percent of retailers. The report revealed that while retailers believe mobile payments will be a growing part of their businesses going forward, few are willing to invest in the technology until the players in the industry agree on a set of standards and a method of adoption that they can quickly roll out to customers.
From my perspective, I believe retailers are wise in taking a wait-and-see approach when it comes to mobile payments. Until the major players have a set of standards figured out, why invest in a technology or solution that may be outdated in a matter of months? The marketplace is still evolving.
For me, and I expect for a lot of other consumers, the decision to use a mobile payment option comes down to whether it makes my shopping experience easier and more convenient. That's the challenge for retailers; let's see if they're up to the task.