Make the Switch to Document Imaging Software Today
The best document imaging software packages for the enterprise have many features- they allow you to scan and import documents in a number of formats, allow you fine granular control over who does and doesn't have access to certain documents, and arrange your documents in an easy to review way. There are dozens of packages out there, so choosing which one best fits the needs of your company can be somewhat trying. We've compiled a list of what we consider the three best packages for your review.
Content central document management software from Ademero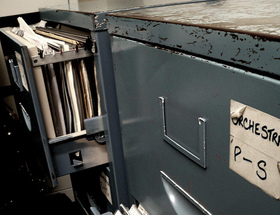 Ademero's Content Central allows you to manage both digital and hard copy documents easily. The software is browser-based and improves your approach to the problem of document management. Content Central allows you to capture all types of documents, including paper (such as faxes), e-mails, and even PDF and Microsoft Office files.
Content Central allows you to streamline your document management and retrieval process, leaving you time for the more important aspects of your business. There's even a fully functional trial version that you can take for a test drive to see if the program meets your needs.
Get more done with CompuThink's ViewWise
Making sure that both employees and customers have quick and reliable access to the wide variety of documents that your business generates is important to the seamless operation of your business. Whether the document is an invoice, fax, or a product brochure, it's vital that whoever needs the document is able to find and retrieve it quickly, every time. ViewWise from CompuThink gives you this functionality.
The ViewWise product is browser-based, meaning it can be accessed from any platform that is connected to the network or the Internet and has the proper permissions. ViewWise is scalable from the smallest to the largest organizations, and, according to their site documentation, has an excellent return on investment, giving you a variety of methods to search and retrieve documents, including a full text and keyword search function and offers native support for over 400 different file formats in a single platform.
Ricoh managed document services
Ricoh has, for decades, been a leader in the enterprise document management market, providing some of the most popular copiers and enterprise-level printers on the market. They've also stepped up to the plate with their Managed Document Services(MDS) to help streamline your document storage and retrieval processes, saving your company time and money.
Ricoh's MDS is delivered through their unique five-phased approach that is adaptive and customer-centric. Since no two companies are 100% identical in their needs, every MDS deployment is custom-tailored to fit your needs. There is no one size fits all approach with Ricoh's MDS.
What you might pay
The above mentioned vendors will tailor a custom quote to your specific business needs. Packages are typically broken down by the number of users on an annual basis, with $130 to $700 being a ballpark range per user. Though the range sounds wide, it's largely be dictated by the platform and any advanced customizations you include.
Most document imaging platforms allow single users. But if you have one or more employees who will need access, you may be able to save money on package deals with rates for five users and more, ranging between $650 and $3,500 annually.
Effective document management can mean the difference between success and failure in business. If you can't access important documents within a reasonable time frame, you may lose customers, which means you'd lose business. Don't let that happen. Take a look at these three document management solutions, and then let one of our experts help you decide which is the best document imaging software solution for your company.
Ready to Compare Document Management Software Price Quotes?