Call Center Software Introduction
Phone, email, text, chat, mobile apps, social media--technological advancements have changed the way we communicate. They've changed your customers' expectation, too. Gone are the days when efficiently distributing phone calls among representatives was your biggest communications challenge. Now you need a way to provide a seamless customer experience across multiple communication channels. This is why call centers are now frequently referred to as "contact centers."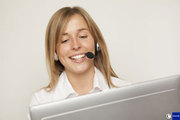 Your contact center workforce is evolving, too. Nowadays a representative is as likely to work from home as at your location. You might also opt to outsource some or all of your communications to a contact center overseas.
Managing these variables while keeping your customers happy requires advanced call center technology. This BuyerZone Call Center Software Buyer's Guide will help you understand what technology is available, how to evaluate different systems, and what kind of investment you can expect to make. We'll then put you in touch with several qualified vendors free of charge for competitive price quotes.
---
The first step in your purchase decision is to decide whether or not call center software will be beneficial to your line of business. Here's a quick overview of the cost- and time-saving efficiencies it can provide. Get started here.
---
Call Center System Benefits
A call center system allows you to put the right customer in touch with the right agent as quickly and cost effectively as possible. The result is improved customer service, reduced costs, and better workforce management.
Improve customer service
A call center system can have an immediate impact on customer satisfaction. Reducing hold times, letting callers know how long they'll be waiting, and connecting them to the right agent or department the first time will all improve your customers' perception of your company.
By keeping your customers' information at your fingertips, a call center system also allows you to provide the same level of service no matter how customers get in touch with you. No longer will customers become frustrated with an agent for asking them to explain again the problem they emailed about last week.
Furthermore, a good call center system allows you to provide service to those who are deaf or have a hearing or speech impediment. This can include a special TTY number or text telephones and text-to-speech technologies. Depending on your customer base, you may also want to consider a system that can manage callers and agents who speak multiple languages.
Improve efficiency for reduced costs
An efficient contact center system can reduce the amount of time your agents spend with individual customers. Improved call handling can shave 10 or 20 seconds off each call, enabling you to handle the same number of calls with fewer staff, or more calls with the same staff. Spread out over hundreds of calls you can quickly see hours of saving in valuable time per agent.
Better call center management
Call center system reporting will allow you to monitor how many calls you handle each day, what times of day are busiest, which agents have the best time-per-call and upsell rates, and much more.
This data makes it possible to improve your scheduling of agents, reduce under- and over-staffing, and identify your most successful agents as well as those who need additional training. From live statistics about the state of your call center right now to full year overviews, you'll have the information you need for better call center management.
---
It's now time to prepare for the integration of call center software into your organization. This step isn't as hard as you might think.
---
Preparing for a Call Center Software Purchase
Before reaching out to call center system sellers, it's important to evaluate your business needs and goals. Gathering information about your current message flow and call center procedures will help you compare different systems and find the one that suits your individual needs. Ask yourself:
How many requests do we handle per month?
From where do our requests originate? (Phone, email, web, chat?)
What type of calls do we primarily handle? (Inbound or outbound? Sales or service? Internal or external?)
How many agents do we have? In how many locations?
What metrics are we currently using to measure performance?
What phone system are we currently using?
What systems will the call center need to connect with (existing phones, databases, CRM, etc.)?
Do we need to be able to easily scale up and down due to seasonality?
What's our budget for this purchase?
What IT resources do we have available to help set up and maintain the system?
Answer these questions not only for your current operations, but with an eye to the future, as well. Think about where you plan to be three to five years from now. Can the system your evaluating accommodate your forecasted growth?
Are you ready for VoIP?
There is a significant trend toward voice over Internet protocol (VoIP) telephone systems. This technology has moved past the cutting edge into the mainstream, even for essential operations like call centers (learn more in our VoIP phone system Buyer's Guide). Most call center software systems support VoIP - some even require it. Knowing where you stand on a VoIP rollout will help frame your discussions with potential sellers.
Get the right people involved
Specifying and deciding on call center software requires input from both IT and call center management. One of the surest paths to disaster is to give either one complete control over the decision, minimizing the involvement of the other. Make sure that both are deeply involved in the process from the start and you'll avoid problems down the road.
Call center software has such a dramatic impact on your agents' day-to-day operations that you should include them in your decision making, as well. Having actual agents try different solutions can give you unique insight into the pros and cons of the system.
Talk to sellers
Once you've gathered this data, it's time to start talking to potential sellers. Often, they'll ask you questions that will help further refine your requirements. Remember, a call center system isn't a commodity or off-the-shelf type of purchase, you're shopping for for a custom solution that will work for your individual needs.
---
It's now time to prepare for the integration of call center software into your organization. This step isn't as hard as you might think.
---
Hosted vs Local Call Center Solutions
There are two types of call center solutions you can choose from. An in-house setup runs on your servers in your own data center--this is called a locally hosted or client-server system. Alternately a hosted system runs on your seller's servers and you access it via the Web. Web-based systems are refered to by many names: cloud-based, on-demand, application service provider (ASP), software as a service (SaaS), or Web-based solutions.
Local solutions
The older of the two technologies is the locally hosted solution. This familiar setup gives you the greatest control over every aspect of your system. The application runs on a server in your office and your IT staff maintains it. This may be the rout to go if you have a fully staffed IT department and many internal systems that need to be integrated.
Having this total control can be a drawback, though. It requires a considerable investment in servers and staff - you'll need quite a bit of IT expertise to maintain and update the system.
If you choose a local solution, you'll pay a lump sum up front to buy and set up the system, including software and servers (making sure you have enough capacity for your highest call volumes), and usually a small annual fee for access to upgrades and customer support.
Hosted solutions
As cloud computing grows in popularity, so do the number of companies choosing a hosted call center solution. With this setup the software resides on the your sellers' servers and most of the processing is done there. Communications are delivered to your agents via the Internet.
The main advantage of hosted call center solutions is that it is very easy to get started. Within days a hosted service can get you access to enterprise-level features even if you have only a handful of agents. You can then add agents any time with just a phone call.
In addition, hosted sellers offer very robust systems. Multiple layers of firewalls and security, uninterruptible power supplies, fail-over (instant switching from one computer to another in case of a crash), and reliable backups are all standard operating procedures. Together they virtually guarantee that your call center will always be up and running - without taxing your internal IT staff.
The downside of hosted call center solutions is that no Internet connection works 100% of the time. Your internal network may fail, your ISP may experience an outage, or an Internet worm may cause congestion - so even though the hosted call center is running, you could lose access to it. These types of outages are quite rare, but you should be aware that the possibility exists.
With a hosted solution there is no capital investment, you'll pay a monthly bill based on your usage.
Which is right for you?
The choice between a local and hosted system is largely one of control vs convenience. Owning your own hardware and software gives you complete control over the system. Many businesses are more comfortable with this setup. Meanwhile, hosted systems allow you to leverage your seller's scale and expertise. Here are some areas you should consider:
IT staff. If you have in-house IT staff, a client-server solution may be your best option - but make sure you involve IT in the purchasing decision. Smaller businesses with little to no computer expertise are probably better off choosing an online solution.


Customization. Hosted sellers can easily make basic changes in appearance and functionality; however, if you need extensive customization and integration, in-house call center solutions give you the most control and flexibility.


Finances. An in-house call center solution requires a large capital investment; a hosted solution does not. For cash-strapped or risk-adverse companies, this alone can make the decision fairly easy.
---
One of the fastest ways to find the right call center software is by searching for the best combination of features and extra services that meet the demands of your business.
---
Additional Call Center System Features
Basic call center system features such as reporting and automatic call distribution (ACD) can make or break your decision. Knowing what you need in advance will make it easier to compare different packages.
Automatic call distribution
Automatic call distribution is one of the defining characteristics of call center software. ACD uses caller ID information to match an incoming call to your customer database. If a match is found, the call is routed according to which products the customer uses, how much they spend with you, their contract status, or any other piece of information you have about them. You can even specify individual agents who should help particular customers.
Advanced ACD applications include conditional routing, which changes call routing based on specific situations. For example, "If group A's queue times exceed two minutes, and at least one agent in group B is available, route group A calls to group B until hold times are less than one minute."
ACD goes a long way towards increasing customer satisfaction: by connecting customers to the right agent before the line is even picked up, you greatly reduce additional hold times during transfers. You can also improve sales results and reduce call handling times by playing to your agents' strengths. Skill-based routingallows you to list each agent's strong points - sales, specific products, languages, or technical skills - and have callers distributed based on those skills.
Call center reporting options
Reporting is probably the single most important feature of a call center solution. There are two types of call center reporting to look at: real-time information on how your call center is doing right now, and overall reporting on performance over a given time period. In most cases, the pre-packaged call center reports that come with the system will answer many of your needs. Since call center activity and metrics are fairly consistent across different industries, the software creators have a good sense of what reports are most valuable.
However, every company's call center reporting needs are different, and you may want more specific reports than are available out-of-the-box. For the most flexibility, look for a system that either includes an interface for generating custom reports or allows you to export the data to a separate reporting software.
Extra features
CTI: Computer Telephony Integration
CTI (computer telephony integration) isn't so much a specific feature as it is an integral part of any call center system. The most common CTI feature is "screen pops" - having records from your customer database or CRM system appear on agents' screens as they answer each call. It saves valuable time and improves customers' impressions of your business.
CTI also includes "soft phone" functionality - where agents can use their computer to control phone calls. CTI is one of the most recognizable features of a modern call center.
Another popular CTI option is predictive dialing, which takes advantage of the fact that a large number of calls never reach a live person. The computer automatically places calls and only connects them to an agent when someone answers. Busy signals, disconnected phones, and answering machines never waste your agents' time. Predictive dialing allows you to place a significantly larger number of calls without hiring a single additional agent.
Be careful, though. If your predictive dialer software doesn't place enough calls, agents will sit idle waiting for a call. If the predictive dialer places too many calls, no one will be available to speak with the person who answers the phone. If you're ever answered the phone only to hear a recorded message saying, "Please hold the line for the next available agent," you've experienced a predictive dialer failure.
Interactive voice response - IVR
Interactive voice response (IVR) is another hallmark of modern call center software. By using interactive, prerecorded messages IVR systems help customers get the information they need while reducing the burden on you call center. If a large percentage of your calls are customers seeking a single piece of information like their current balance or your store hours, IVR can provide them with better service than a live agent.
Modern IVR can also collect basic customer information while calls are in queue for a live agent. Compatibility and integration are key to this to working smoothly. If you've ever had to give an agent your account number immediately after having typed it into an automated system, you've experienced an IVR integration failure.
Workforce management
Real time monitoring can alert supervisors whenever hold times or drop-off rates hit certain thresholds. Call monitoring and recording can be valuable training and evaluation aids or invaluable insurance in case of customer complaints. And scripting capabilities make it easy for staffers to handle multiple situations with the right messages. All of these options are fairly common in call center software - make sure you know in advance which are most important to you. Some of these features may be included in your basic call center system package, others are sold separately or as an upgrade.
Call blending
For larger call centers, call blending offers another productivity boost. Call blending allows agents to switch between inbound and outbound calling as call volumes dictate, allowing you to maximize your agents' time. Agents can also be assigned to outbound calls only, which is helpful when training new employees, allowing them to master one task at a time.
Call blending features can eliminate or greatly reduce their need for ACD software. Setting up call blending is fairly straightforward, but once again requires your input. To start, your provider will need to know your monthly calling volumes as a whole and also the volume broken down by the hour of the day.
Auto dialers
An auto dialer calls a list of customers in a specific order so you don't have to. This can save lots of time when you need to send out appointment reminders or notify clients of upcoming events. Auto dialers can perform different actions when they reach a live person, a busy signal, or voicemail. If a person picks up, they can even collect feedback by prompting the customer to enter responses using the telephone keypad.
Multimedia handling
The ability to handle email, web, and chat inquiries along with phone calls is becoming increasingly important. Remember, you're planning for the future, so even if electronic inquiries make up a relatively small percentage of your total right now, be prepared for that to increase over time. Here are some things to consider:
Do you have a social media presence? Some systems integrate with social media aggregators allowing you to monitor and respond to what your customers are saying about you across a number of social platforms.


Do you have a mobile site? Some systems allow you to handle mobile inquires separate from standard web inquiries. Others provide a "click to call" button so customers on their phones can take immediate action. Ask your seller what mobile features they have available.
Well-integrated multimedia handling systems will use agents' downtime on the phone to handle other types of inquires and make sure that all questions and orders are tracked and measured in the same detail.
Remote access
Remote access gives your representatives the ability to work from home or another off-site location. All they need is a computer, a telephone, and a broadband Internet connection. This setup can provide greater flexibility in scheduling, improving employee moral and resulting in lower turnover rates. It also gives you the ability to hire the best agents no matter where they reside.
Remote access can also help if you outsource communications to a third party call center. Ask your call center seller to have their agents log in to your system. You'll then be able to track their performance the same as your in-house employees, letting you keep better tabs on how they are handling your customers.
Even if you don't have off-site employees now, it's still an important feature to ask about if you're considering it in the future.
---
As you begin to narrow your search, it's time to start comparing individual services. While they may seem similar, there are actually a number of components that enable you to compare them side by side.
---
Evaluating Call Center Services
In addition to carefully comparing features and prices, you should take extra care to evaluate potential call center software sellers on their overall business, not just their product. Here are some general considerations to keep in mind when comparing call center software systems:
Timeframe to deploy/integrate - Installing and integrating a call center software system can take anywhere from a few days for a hosted solution to several months for a fully integrated on-site solution. Ask sellers what a typical timeline is for each product you're considering.


Ease of use - Every seller will tell you their software is easy to use. Try a demo yourself and see: Are controls clear? Can you get to important information quickly? (This question is one that your call center agents can help you evaluate).


Flexibility - Again, every seller will tell you their product is flexible and customizable - and to some extent, they all are. However, true customization is more than just changing some labels and colors. Find out how well the system can be made to match your existing business processes.


Maintenance/administration - You'll want to be able to make minor changes to the system and create new reports without placing service calls or depending on your IT staff. Look for a system that lets average staffers learn how to do routine administration and maintenance.
Specialization
Call centers are fairly similar across industries, so most call center software sellers don't specialize in one particular type of call center. Look for a seller with plenty of experience dealing with customers of your size: to get the best service, you'll never want to be the smallest or largest customer in the seller's portfolio.
Look for a company that is stable and successful. Ask how long they've been in the business, what their long-term plans are, and how they will continue to update your purchase. Industry analysts or market reports can help give you a sense of this.
Make sure that the company can support you: if your call center runs 24/7, you'll want their support to be available around the clock as well. And good training will help your agents get the most out of the system right away, so ask what training options are available. Having a trainer come to your call center is preferable, off-site classes are good but can be inconvenient, and canned demos or online courses are easy to access but less effective.
Integration of the system with your existing hardware and software is essential. Most call center software sellers will quickly assure you that they can integrate with your systems, and that's usually true, but the amount of effort can vary.
Ask more detailed questions like:
Have they done projects with databases like yours before?
Can your existing phone hardware support all the features of their software?
Will they need to install any extra hardware or create custom programs to connect to your customer database?
Get and check references of 3 to 5 current customers for any call center software sellers you are seriously considering. Ask these types of questions:
Overall, how happy are you with your call center software?
How long did they tell you it would take to install the system? How long did it actually take?
Did the seller provide adequate training?
Does the software do everything they said it would do?
How responsive is the seller when you have problems?
How much downtime have you experienced in the last year?
If you were starting over, would you work with the same seller again?
What do you like least about the system?
If you're dealing with a reseller or value-added reseller, make sure you also evaluate the software companies they are proposing for your system. You want to choose a solution that will continue to be updated and improved - look for companies that have demonstrated a commitment to their call center product.
Questions to ask sellers
Here are some questions you might ask a potential seller:
Will this system work with my current telephony?
Will this system easily integrate with my CRM and other software?
How are upgrades to the system handled?
What kind of support is available? Do you have a guaranteed response time when I call for support?
How long will it take to deploy the new system? How will you minimize disruption to my current operations?
What kind of training is available?
Can this system support multi-channel communications?
---
The best call center software is the one that strikes a balance between functionality and budget. But many times you'll have a selection of platforms that provide the same benefits and services. In these instances, price can act as a determining factor.
---
Call Center Software Pricing
Keep in mind that as with any major business purchase, you should be considering the total return on investment, not just the initial expense. Many sellers will help you calculate the potential savings you could realize due to better staffing, reduced hold times, and increased upsell rates.
Over the long term, you should be confident that the new system will result in a boost for your bottom line before you commit to any expenditure.
Find out what other BuyerZone users have paid for call center software.
On premise
As a very rough guideline, an on-premise system for smaller call centers will range from $2,000-$4,000 per agent for hardware and software. If you are keeping your hardware you can expect to pay less for just the software portion. Keep in mind that systems are not usually priced per agent like this, but it can give you a sense of what you might expect to pay. Prices go up as you increase the scope of your operation. Equipping a new call center for 50 to 100 agents from scratch can cost hundreds of thousands of dollars.
You'll almost always have an installation or setup fee. Some of these will include training and integration work,other sellers may charge much smaller setup fees, but charge separately for training and integration. Also factor an annual support or maintenance fee of between 10% and 20% in your budgeting as well. This cost includes additional development and software upgrades, as well as gives you access to technical support.
Make sure that all the costs are broken out for you. It'll be much easier to compare multiple sellers when you can consider each portion of the fee separately.
If you're buying telephone hardware in addition to the call center software, consider leasing. You'll be able to spread your payments over time and potentially buy the equipment at the end of the term for a token fee. Even if you're not leasing, you may be able to spread the payments over time: when you're spending tens of thousands of dollars with a seller, they're likely to be flexible in developing payment plans.
Hosted
Pricing for hosted solutions is quite different. You'll pay a monthly fee for each user that can range from as low as $95 to as high as $200 plus for a more comprehensive solution. The per-agent fee will drop as you add more users and as you increase the length of your contract.
In a hosted solution, make sure you ask whether your licenses are for named users or concurrent users. Concurrent user licenses are more expensive, but you'll only have to pay for the total number of licenses in use at any one time, instead of paying for each user of the software. If you run a multiple shift call center, you can slash your costs with concurrent user licenses.
The largest call centers cancel out the cost advantages of a hosted solution: at around 200 agents, an on-premise solution becomes a more economical choice.
Call Center Software Buying Tips
Take a test drive. If you're not sure a new call center system will help you, or if you just want to test the hosted model, don't be afraid to sign up a couple of agents for a short-term hosted solution. You'll be able to evaluate both the performance of the system and the hosted model.
Don't overdo the prompts. According to Call Center Magazine, IVR systems should have no more than four options on each menu to keep customers from getting confused, and no more than two menus in total. More than that and you'll start losing calls. And always include a way to reach a live agent at any point.
Think distributed. Some businesses are using call center software to create "virtual call centers." No physical "center" is needed: instead, the system connects callers to employees in different locations across the country or even the world. This can save money and provide better customer service.
Longevity matters. If your organization plans to be around for the long run, go with a solutions seller that has demonstrated its staying power with a proven track record.
Ready to Compare Call Center Software Price Quotes?