Cloud-Based Call Recording Software for Call Centers
Cloud computing is bringing new options to those who manage call center environments through cloud-based call center software that takes advantage of some of the newest remote networking technologies, combined with state-of-the-art automation for telemarketing and other call center activities. For those who need the most robust data handling systems in call center platforms, cloud services can make a lot of sense and provide more security for all of the information that call center staffers collect during a day's work.
How cloud-based call center services work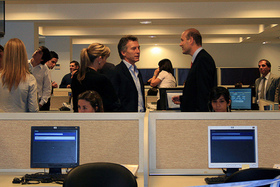 In call center platforms that utilize cloud computing, data recorded by call center workers are automatically sent to a remote storage location through a certain kind of intelligent networking that involves sophisticated routing to a vendor's secure destination. This kind of setup can provide more effective security for call center backup systems and a lot of access, not only for the rank-and-file of the call center operation, but for business leaders who may need to review data on a regular basis to see how well the call center is working toward its goals.
Many of the best cloud systems do this through a versatile "dashboard" system that manages various levels of authorization, while keeping data completely secure.
Cloud-Based Call Center Software Platforms and Compliance
Cloud computing can help call center operators by providing automated compliance with legislation and other industry standards. For example, in medical call centers, correctly administrated cloud computing systems can help businesses comply with the Health Insurance Portability and Accountability Act (HIPAA) that governs how a patient's medical data can be stored and used within a business operation.
In addition to providing the secure storage methods that are the calling cards of today's cloud-based systems, the best call center software should also offer a lot of customized information handling aimed at helping a particular business achieve its unique goals. This includes automated dialing systems that save time on multiple calls, as well as custom accounts with just the right mix of stored information that call center staffers can work from. Additional bilingual or hard-of-hearing services or other features can also help a call center do more every day.
Call center checklist
If you decide that your call center needs to record calls, the following cloud-based call recording checklist may help you with the process:
Start with a gap analysis of your phone system as a whole. Think about your current system and the service gap you currently have. Make sure to record all the things you like about your current system. Create a snapshot using input from management, call center users, and customers. This will make it easier to assess your goals and communicate effectively with your sales representative. There might be helpful packages that your organization has not considered.


Make sure data is accessible. Administrative features to look for when purchasing software for your call center include data access, retrieval, and storage. Technology is a lot more flexible and affordable now than it was a few years ago, when many call centers still used tape to store messages. However, making sure that only the right people can access information is something that may differ slightly with each brand.


Private or public cloud?. Private cloud-based call recording software requires you to buy the server and house it on your property. Generally, this is a one-time cost. If you decide to use public cloud software, you have the reassurance that there are multiple replications of your data. However, this usually is billed monthly and charged per staff member.


Make it user-friendly. User-friendly ultimately means customer friendly. In the quest to gain access to new technology, make sure you do not create a system too cumbersome for your staff to use efficiently. Users should be able to perform all the same functions they could perform previously with ease. If your users are unable to navigate the system, it will translate into a larger learning curve. This can be frustrating for users and customers.
With the right cloud-based call center software at your disposal, you may be able to dramatically increase productivity per staff hour, figure out who your best performers are, and otherwise manage your call center environment.
Ready to Compare Call Center Software Price Quotes?