Business Going Green? Try These Digital Solutions
Sometimes it's tough to know how to get started on a sustainable path. While switching to recycled materials and creating new energy-management policies are great strategies, offices need to think about how they use paper and office supplies too.
Your business can cut the amount of paper and power it uses, quickly and easily, simply by adopting new digital document systems. In doing so, you're not only streamlining your business and making it more cost-effective, you're also encouraging sustainability and dramatically cutting down on your company's ecological footprint.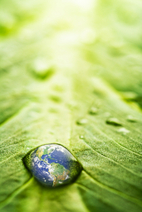 Here are four of the most common approaches:
Scan it
Most offices have traditionally kept rooms full of contracts and documents that tracked customer relationships. Some professionals, such as attorneys and doctors, must keep on file a vast amount of information that needs to be consulted daily.
Most of these documents can be scanned into digital systems and converted entirely to a software-based model (the law sometimes requires hard copies be kept, but these are a sliver of the total number of documents offices typically manage). Fortunately, modern document management solutions make the process available to the average company.
Benefit: Organization and search functions make it easy to find any document in your document management system, saving office space, time, and paper.
Email
Once a digital document is located, it can be kept in the electronic system instead of printed out. While offices may be in the habit of printing out paper versions or making a few dozen copies for distribution, this wastes both paper and the electricity spent on bulky office printers or copy machines. Some things - marketing materials, etc. - still need to be copied for physical distribution. But for just an office announcement or memo, companies can use email and cut costs considerably.
The green benefits far outweigh the small change in policy and habit.
Benefit: At an average cost of around 5 cents per page, those paper documents aren't cheap! Document management systems instantly eliminate countless reams of paper as well as additional consumables like toner and supplies.
Downsize devices
All those big printers and over sized copiers sap power even when they're not being used. The best solution is to pull the plug altogether and get rid of them, saving energy while cutting power bills.
As the modern office begins to rely more on digital materials, printers and copiers are being replaced by new multifunction printers/products (MPFs). These are basic printers that can perform a variety of chores like scanning, printing in color or black and white, and making rapid copies, but take up only a fraction of the size and power that traditional devices require.
Benefit: Most quality document management systems pair with modern MPFs, enabling you to use the scanner and import documents directly into the system. You can then distribute them - internally as well as externally - with the push of a button.
Digital routing and approval
Old routing and approval procedures needed lengthy, material-consuming processes that included printing, signing, and re-scanning or storage. Digital routing and approval, which uses approaches such as electronic signatures and electronic workflow processes, remove most of the demand for physical materials. The process becomes smoother and quicker, with real-time updates that get results to customers faster while saving your company money.
Benefit: With electronic documents and alerts, users can be notified via text or email when an approval is pending. Then from any computer, tablet, or similar web-enabled device they can authorize or decline the issue in question and send it on to whoever is next in the chain. This process has the potential to shave days if not weeks off of accounts payable as well as contract approvals, employee performance reviews, disciplinary paperwork, and even job applications.
A business going green will save on office supplies, cut down on power bills, help the environment, and speed up delivery - all with one switch to digital document management.
Ready to Compare Document Management Software Price Quotes?