iCIMS' Post-Hire Solutions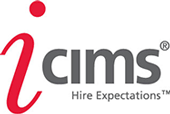 With iCIMS' Talent Platform, not only are you able to provide a world-class experience for your candidates, but you are also able to continue that high standard of excellence for new hires, as well as existing employees. What's even better is that, unlike other Talent Management Systems, iCIMS doesn't require clients to purchase additional, disparate modules or migrate to new databases in order to support Post-Hire needs. iCIMS' Talent Platform makes it possible for organizations to manage their Post-Hire processes through a single web-based system. iCIMS' Talent Platform offers such Post-Hire tools as performance management, succession planning and surveys and assessments, among others.
More iCIMS Recruiting Software Information
Benefits of utilizing iCIMS' Talent Platform for your Post-Hire needs include:
Lower total cost of ownership for talent management software
Centralized location to track, store and manage all information throughout the employee lifecycle
Improved collaboration among the HR team
Established strategies to assess and prepare for future human capital needs
Improved ability to evaluate employees and the effectiveness of programs
Ready to Compare Recruiting Software Price Quotes?