iCIMS' Pre-Hire & Post-Hire Solutions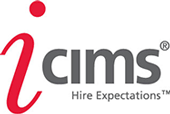 Unlike Applicant Tracking or Talent Management Systems of the past, today's Talent Platforms are solutions that make it possible for corporations to manage their organization's entire talent life-cycle through a single web-based system, eliminating the need to purchase multiple, costly, disparate talent management solutions or software that doesn't communicate well with each other.
More iCIMS Recruiting Software Information
iCIMS delivers the industry's premier on-demand Talent Platform by offering robust yet scalable technology, capable of powering multiple talent initiatives within one core platform. From Applicant Tracking and Onboarding, to Performance Management and Succession Planning, iCIMS' easy-to-use platform fully streamlines all of your pre- and post-hire needs.
Ready to Compare Recruiting Software Price Quotes?