Online Meeting Software Applications for Business
Reviewing documents by telephone can be an awkward, time-consuming experience where you fritter away much of the phone call describing what everyone should be viewing. A web conference gives you an easy way to stop wasting your time.
Can web conferencing benefit your business?
Web based conferencing allows you to deliver presentations online. This can involve showing a simple set of Microsoft PowerPoint slides, navigating through a website, or demonstrating how a software programs works. From a presenter's perspective, one of the tool's primary advantages is that you can control what your meeting participants see and when they see it. And to help emphasize points you are trying to make, you have the ability to mark up what is being displayed like a football commentator.
Today, most businesses utilize a web conference or webinar for purposes like: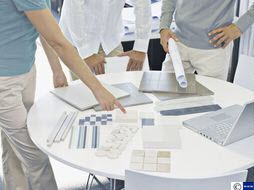 Web conferencing can be particularly helpful for group projects.
Educating existing/potential customers - 85%
Lead generation - 77%
Improving market position - 60%
Converting new contacts - 54%
Making new connections - 31%
Recording a webinar - 30%
Web conferencing may be able to provide your business with benefits like:
Ability to record meetings.
Opportunity to improve inter-company relationships.
More interactive employee training programs.
Seamless/impromptu brainstorming sessions.
Instant connection between branch offices and/or remote workers.
Improved productivity in group projects.
Offering step-by-step employee and client IT support.
Quick company bulletins and news updates.
Online meeting software features
In addition to being able to share a common view, web conferences offer a number of other features that take advantage of the Internet, like:
Real-time user polls
Online chat
Live video transmission
Online whiteboard capabilities
Presenters do not need to be the only ones to lead the meeting, by the way. The host can also pass control of the meeting to attendees who can then choose to share their own documents.
For those who seek even more interactivity, web conferences can get considerably more sophisticated. For example, it is possible to give people access to your actual computer. This can be helpful during technical troubleshooting sessions when software settings need to be changed. Web conferences can also support interactive collaboration where multiple people can work on the same document without being physically present in the same room.
New web conferencing innovations are being introduced to the market regularly as providers compete for business, like:
Application sharing. Beyond document and desktop sharing, web conferencing software may be equipped with an App Sharing menu to allow a presenter to share an application with all participants. Remote users will be provided with keyboard and mouse input.


Email invitations. Participants will be alerted of a meeting via email with a convenient link sent to their inbox.


Webinar tickets. When used for marketing or sales purposes, tickets can be sold to a company webinar with PayPal/credit card options available.


Social media integration. Meetings and webinars can be promoted directly on Facebook and Twitter to generate buzz and improve attendance.


Integrated conference calling. A standard business meeting can cater to more participants using a conference call number and pin codes so that users can join by computer or phone.
Choosing a web conference solution
Online meeting software offers the easiest way to get started. Attending a web conference is very much like joining a teleconference. Using your web browser, you go to the web conferencing provider's site and log in using the meeting code provided by the conference host. Once you are logged in, you can view who else is logged on and see what is being shown to the group.
While you can transmit sound via the Internet, the quality is not ideal. As a result, many web conferences use a regular teleconference to transmit sound. Similarly, web cams provide an interesting, but not quite ready for primetime, view of your meeting counterparts.
There are a number of web based conferencing service providers that offer these services. Differences among them primarily relate to the range of services offered and the quality of their customer support.
Some providers offer free web conferencing services for up to 200 attendees, including ads. Small business web conferencing packages at up to 25 attendees without ads may cost $17.99 per month; web conferencing packages that support up to 200 attendees without ads may start at $69.99 per month. Other providers may charge a baseline price of $12.95 a month for two participants, adding on $1 per month for each additional participant.
With a web conference, you no longer have to worry about whether people are literally on the same page. Now, you can just focus on getting them to agree about that page.
Quick tips
Plug in. In order to participate, some services require you to download a plug-in for your browser so it can be conference-ready.
Software alternative. If you have technical employees on staff, try conferencing software to avoid per participant charges.
Start early. To ensure an on-time start, first-time web conference users should be asked to attend the conference early to troubleshoot any potential problems that arise.
Ready to Compare Web Conferencing Services Price Quotes?