Manufacturing Spray Paint Booth Enhance Metal Finishing
Modern manufacturing spray paint booths deliver the most cost-effective mix of profitability and convenience - from individual, bench-style paint booths to multi-sectioned conveyor systems. In general, they differ based on three primary characteristics: cabin style, airflow, and air pressure.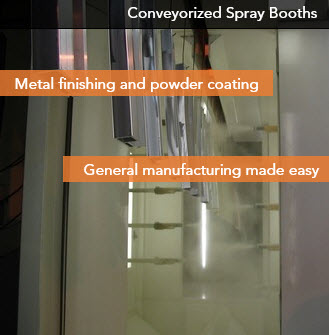 The booth, sometimes known as the cabin, is either open faced or enclosed. Enclosed models feature a system of circulated air that's either downdraft, semi-downdraft, side-draft, or cross flow. Open face booths remove airborne particles through an industrial grade fan that vents through a roof-mounted exhaust stack, expelling filtered air back into the shop environment. The air pressure within the work area is either positive or negative depending on the manufacturing process.
Constructed from 18-gauge galvanized steel, most are sold as a complete package that often requires self-assembly. In addition to kits, individual components can be incorporated into existing systems to replace worn or outdated components.
Fully customizable through quality manufacturers like Global Finishing Solutions and Spray Systems Inc., modular paint booths are also designed for specific uses that fall within a variety of industrial applications. Among the most popular are: automated manufacturing processes, powder coating, and metal manufacturing.
Automated / conveyorized manufacturing
When selecting the best spray paint booth for inclusion into a conveyorized manufacturing process, there are a number of things that have to be factored into the purchase decision. These include:
Automated Manufacturing Booths
Size
Width
Height
Extension Length Options
48" 4-Tube Fluorescent Light Fixtures
Estimated Cost
Small
5'
8'
2' 6, 5', 7' 6"
1
$2,000 - $3,000
Small
7'
8'
2' 6, 5', 7' 6"
2
$2,200 - $3,000
Mid-Size
12'
10'
2' 6, 5', 7' 6"
2
$3,400 - $4,300
Mid-Range
16'
10'
2' 6, 5', 7' 6"
2
$3,900 - $4,600
Large
20'
12'
2' 6, 5', 7' 6"
4
$5,300
Large
24'
12'
2' 6, 5', 7' 6"
4
$5,700 - $6,000
Purchasing recommendation (industrial finishing): For power-and-free conveyor setups or high-production palletized floor conveyor lines - like those used in the manufacture of water heaters - large spray paint booths should feature a minimum width of 20 feet depending on the width of the product and pallet. Height is also a concern due to machinery or palletized goods, so extended heights are built into the design at this level and should be at least 12 feet high. Lengths are custom built for these particular spray booths to ensure optimum compatibility with your production needs, and come in extensions of around 2 1/2 feet and as long as 7 1/2 feet. Though some systems offer smaller fans (24 inches for example), a minimum of 30 inches in diameter with an output of 3 hp to 5 hp should be the minimum for this application.
Powder coating
Powder coating is a finishing process that uses a negative electrically-charged current to "attract" the paint or sealant onto the product. Held in position through this electric charge, the part or product is then baked at high temperatures to permanently cure the finish onto the surface.
Many powder coating setups come complete with spray system, spray-to-waste booth, and the electric oven - accounting for the extended floor space requirements you'll notice below. Though there are a number of different sizes, power coating systems typically fall into three general categories based on the size of the parts intended for curing:
Powder Coating Sizes
Size
Dimensions (W-H-L)
Required Floor Space
Fan
Estimated Cost
Small
3' 8" x 7' x 5' 8"
19' x 19'
208/240 or 460/480 VAC, 3-phase
$18,000
Mid-Range
10' x 9' x 11'
25' x 30'
208/240 or 460/480 VAC, 3-phase
$36,000
Large
10' x 9' x 22'
36' x 30'
208/240 or 460/480 VAC, 3-phase
$48,000
Purchasing recommendation Mid-range setups intended for motorcycle finishing, large tools, and furniture, require a minimum depth of at least 11 feet and a width of 10 feet. These booths should incorporate two tubeaxial fans measuring at least 24 inches in diameter with an output of 3 hp to 5 hp. Designed to be used within any shop environment - and without an air makeup unit or powder reclamation - models in this range should incorporate a combination of filtration styles including blanket/roll, bag, and cartridges to provide the safest work environment through a 3-stage filtration process.
Metal manufacturing
Cross flow and semi-downdraft airflow designs are used extensively throughout metal manufacturing and epoxy coating for their combination of efficiency and safety. In particular, they are relied upon to control the powder, paint, and other airborne particles that would otherwise threaten worker safety. In addition, sprayed materials are often extremely flammable. An enclosed airflow design eliminates high concentrations of these materials and greatly reduces the risk of fire or explosion.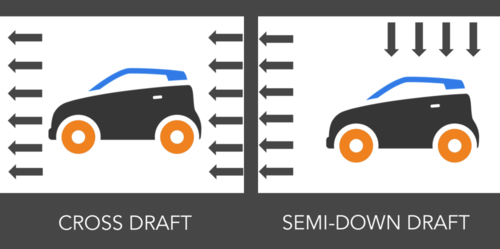 Comparing the two, cross draft airflow draws air from filters built into the product entry doors, pulling it through the length of the booth and into an exhaust chamber. In contrast, semi-downdraft airflow pulls air through filters in the ceiling as well as the product entry door, providing a higher degree of over spray control. The semi-downdraft design also cuts the amount of prep required while eliminating the need for costly exhaust pits.
Equally suited to metals ranging from wrought iron to stainless steel, common configurations include:
Metal Finishing Booths
Airflow Type
Working Dimensions (W-H-L)
Exterior Dimensions (W-H-L)
Entrance Doors (H-W)
48" 4-Tube Fluorescent Light Fixtures
Estimated Cost
Cross flow
13' x 8' x 20'
14' x 9' x 23'
8' x 10'
6
$5,500
Cross flow
14' x 9' x 26'
14' x 9' x 27'
9' x 10'
10
$6,500
Semi-Downdraft
13' x 8' x 20'
13' x 11' x 23'
10' x 8'
6
$6,700 - $24,000
Semi-Downdraft
14' x 9' x 26'
14' x 11' x 27'
9' x 10'
10
$7,900 - $24,000
Purchasing recommendation: Semi-downdraft is considered the most efficient type of airflow design for larger finishing operations that use corrosion inhibitors, mold release agents, and various adhesives for the finishing of components like metal roofing and side paneling. Its ability to cover surfaces evenly is a direct result of the multiple currents within the chamber. A minimum of 13 feet in width and a length of at least 20 feet are necessary to accommodate machinery and palletized goods. Plus, many models in this range include a double filtered air intake to provide a cleaner work environment. Expect a 3-phase, 3 hp fan of at least 30 inches in diameter and ideally 34 inches.
Ready to Compare Spray Paint Booths Price Quotes?