Real-world Aerial Lift Prices From BuyerZone Buyers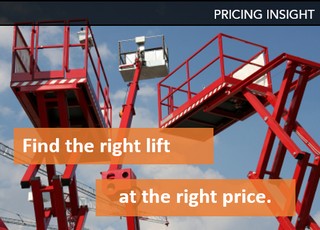 We regularly survey BuyerZone users to ask how their purchases went. We've used their responses to provide a sampling of actual prices paid for aerial lifts.
Size is the most important factor in determining how much you'll pay for your aerial lift. Platform height is the top priority, but platform size and lifting capacity also factor in. A simple rule of thumb is that the more you want to lift and the higher you want to lift it, the more you can expect to pay.
Reconditioned aerial lifts are a popular choice for BuyerZone users. You can save quite a bit of money on your initial purchase by opting for a used unit, but do make sure that the dealer stands behind it enough to give you a 30-day warranty at a minimum.
New aerial lift prices
"Sky Jack 26/32, $8,400 w/annual checkup included - delivery to site." [26' scissor lift]
- Government agency, North Mankato, Minnesota
"$16,265 plus tax, JLG Scissor Lift."
- Government agency, Palm Springs, California
"$9,800 including freight for a JLG 2630." [26' scissor lift]
- Manufacturer, Burlington, Vermont
"Upright 19 ft scissor lift - $4,800."
- Plumbing contractor, Glendale, Arizona
Used aerial lift prices
"JLG VP20 - $1,260." [20' vertical personnel lift]
- Retailer, Virginia Beach, Virginia
"Purchased a used Genie AWP25 for $5,200." [25' vertical lift]
- Entertainment services, Mableton, Georgia
"Skyjack 3220 - $4,700 all standard and some optional equipment." [20' scissor lift]
- Manufacturer, Trenton, Illinois
"$4,700 plus tax for 26 footer."
- Manufacturer, Hendersonville, North Carolina
"2000 Genie scissor lift. Dual fuel, 32' platform height, 4 x 4. $9,200 plus tax, and $300 to go pick the unit up."
-- Electrical contractor, Yakima, Washington
Want more information on choosing an aerial lift? Read our Aerial Lifts Buyer's Guide.
Information was provided by BuyerZone users. Quotes have been edited for clarity only.
Ready to Compare Aerial Lifts Price Quotes?