Steps to Choosing an Aerial Lift
Aerial lifts come in a variety of sizes and types. Among these types are "man lifts." More commonly known as "vertical personnel lifts" or simply "personnel lifts," they're specially designed to hoist a single worker and their gear straight up and down.
The uses of a personnel lift are diverse, having been integrated into a wide range of industries and applications. They enable everything from painting the side of a building to the assembly of jet engines and often come with certain customizations to facilitate a dedicated job function. But personnel lifts have an even bigger advantage over larger aerial platform lifts: cost. In fact, it's not uncommon to find a quality man lift for 10 to 20 percent of the cost of a larger platform lift.
If you're in the market for a personnel lift but aren't exactly sure where to start, there are a number of classic features and modern enhancements to be on the lookout for, including: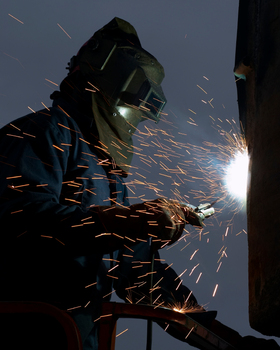 High degree of vertical functionality
Vertical travel is achieved through the use of a modern hardened steel rotary ball-screw powered by an air motor, minimizing the potential for leaks when compared to a hydraulic-based system. The lift moves smoothly on a square tube bottom rail and wide flange beam upper rail at a speed of up to 15 feet per minute.
Extended degree of movement.
Personnel lifts add an extended degree of movement to their list of benefits, typically providing either 2-axis (standard) or 3-axis travel. Optional 3-axis travel will allow the personnel lift to extend away from the beam support and rigging at a rate of about 15 feet per minute.
This functionality is ideal for those needing to reach heights that extend past a barrier, like walls, landscaping features, or large objects. Through the use of an air actuator and scissor mechanism, the basket extends out from the support structure to a distance of up to 8 feet, with an optional roll out assembly upgrade that can further that distance another 2 feet or so.
Comfort and accessibility
Many current models will incorporate enhanced ergonomics that allow operator access to various heights and locations while facilitating smooth movement and safety. Typically including non-slip flooring and secure grating, additional ergonomic design can include dual control points, tiltable steering wheel, and single-lever joystick control, as well as enhanced gauge and switch accessibility.
Look for lifts that are designed compactly so they can be used in congested areas or narrow aisles that require a tight turning radius.
Value through limited weight capacity
While personnel lifts can accommodate an extensive range of products and personnel, they are somewhat limited in the weights they can support when compared to larger aerial lifts. Models support weights between 300 to 3,000 lbs., with an extensive slice of the market devoted to models in the 500-pound range. On average, they cost between $9,000 and $15,000 and can even be found for less than $4,000 for smaller, bare-bones lifts.
Diesel vs. green power options
Most man lifts are designed to be used indoors, so they're usually electric-powered to avoid the noxious fumes produced by gasoline or diesel models. However, higher-end models are typically more robust and can be used outside if necessary. Depending on where you plan on using the lift, your choice of power source will revolve mostly around environmental issues and life-cycle considerations.
When working indoors, the best power choices are dual-fuel or electric, allowing you to minimize emissions in an enclosed area. When working outside, life-cycle cost and longevity issues are often the primary concerns, and usually find diesel-engine power as the most cost-effective and productive power source.
Ready to Compare Aerial Lifts Price Quotes?