Vehicle Mounted Aerial Lifts
Aerial lift trucks, also known as a bucket truck or cherry picker, provide an elevated work platform that enables workers to conduct an endless range of maintenance, service, and operational tasks at height. Typically ranging between 18' and 150' they're available in a couple different varieties - including boom-style lifts and scissor lifts - and are ideal for tasks that require temporary access in even the most inaccessible areas.
Popular configurations and their associated costs include:
Vehicle Mounted Lift Configurations
Type
Max Platform Height
Stowed Height
Platform Weight Capacity
Estimated Cost
Short
18'
6.5'
350 - 3,000 lbs.
$4,500 - $10,000
Short
30'
12'
350 - 3,000 lbs.
$15,000 - $35,000
Mid-Range
62'
10'
400 lbs.
$23,000 - $49,000
Extended Reach
153'
14'
750 lbs.
$50,000 - $100,000
Similar in function to most other elevated platforms, a vehicle mounted lift adds the additional element of convenience, providing access to unreachable and even dangerous locations that would not be suitable to standard scaffolding or traditional aerial lifts. Most are capable of being set up and operated by a single individual, making them ideal for use on a variety of service calls.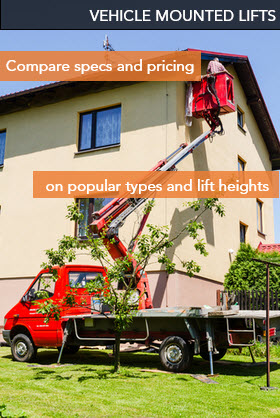 Common examples include:
Airplane maintenance
Signage and light replacement
Phone line installation and service
Building access for firefighters and emergency personnel
Installation
Most commonly found on a pickup truck or installed onto the back of a flat-back van (a.k.a. "self-drive truck"), lifts can also be mounted onto railroad cars and certain standard vehicles as well, the latter requiring only a Class B driver's license for operation. They are designed with a relatively limited weight capacity that typically caps out at less than a ton. However, some truck mounted scissor lifts can accommodate up to 3,000 lbs, trading the extra weight capacity for limited heights of 20' to 30'.
Features typical to most models include:
Mountable on a range of standard pick-up trucks and commercially-available chassis
Full aerial lift functionality, including telescopic booms, fly-booms, and platform rotation up to 180 degrees
Safety features that lock vehicle into position when lift is in use
Special features and types
Far more than just height access, a bucket truck often incorporates industry-specific add-ons that simplify tasks while increasing efficiency. Limiting the number of times a worker will have to return to ground level, vehicle mounted lifts may include a number of outlets for electrical power and compressed air, enabling the connection of power tools. Other possible lift accessories may incorporate specialty modifications such as a glazier kit, for safely transporting glass and paneling from the staging area to the work area.
Further breaking down the possibilities by industry and type of service, you'll find a few common packages based on popularity. These include:
Articulated over-center lifts: This style provides mid-range heights up to 50' and allows the boom to travel over the center of the vehicle to provide the widest possible range of access. Due to this enhancement, over-center models are frequently used in forestry and coupled with heavy-duty material handlers for electrical and utility maintenance and services.


Telescopic articulated lifts: Providing even greater height than its articulated counterpart (often 60' or more), the telescopic articulated boom couples height with functionality, enabling the operator to position the lift far more effectively through the articulated enhancement.


Insulated lifts: Another type popular among utility and electrical companies, an insulated truck mounted lift enables personnel to work with energized transmission lines through enhancements to the rig that include insulation or a non-conductive break between the upper boom and elbow, another insulated gap or non-conductive break between the elbow and truck chassis, and a basket that's constructed of non-conductive materials.
Ready to Compare Aerial Lifts Price Quotes?