Aerial Lift Accessories Increase Productivity Through Multifunctional Upgrades
Aerial lifts are a major investment for most businesses, costing anywhere from $7,000 to $200,000 and above. They're also a safety concern, with workers typically performing a variety of tasks at death-defying heights. But with a few well-chosen accessories, you can maximize your initial investment by boosting the functionality of the machine while increasing the safety of its operation.
Scissor lift accessories are designed to extend the capacity of a lift by economizing platform space, ensuring safer operation and maximizing time by preventing employees from having to stop and start a job simply to retrieve another component, tool, or power source from ground level.
Often geared toward the applications of a specific industry, a few "must-have" aerial lift accessories might include:
Platform power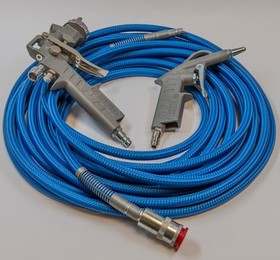 An independent source of power is often viewed as one of the most cost-effective upgrades you can make to a scissor lift. Enabling the lift operator to use a variety of compressed air power tools and related accessories, platform power offers between 2,000 and 7,500 watts of onboard power. This add-on also typically includes an air and water line installed within the power track for extended versatility, making it common within industries that use scissor lifts and a variety of power tools for construction or maintenance including lumber, aerospace, and general facilities maintenance.
Expect to pay: From $1,000 to $5,800 for aftermarket upgrades or an extra $2,000 to $4,000 for models with platform power pre-installed.
Glazier kits and panel carriers
Protecting fragile building materials often presents a greater challenge than the installation itself. When you or your employees have to transport glass, drywall, and similar panels from a staging area to a work area, glazier kits (also known as panel carriers) provide safety and convenience through a rubber-coated tray and foam-padded railing that protect the materials from damage. Also shown to reduce worker fatigue, these kits typically come with safety straps that secure materials within the tray to prevent shifting during the raising and lowering of the platform. They are frequently paired with telescopic booms and used in a variety of general and commercial construction applications as well as facilities maintenance.
It's worth noting that this accessory will shift the center of gravity for the platform, reducing its capacity. For example, if your platform normally has a 500-lb capacity and you have a panel carrier capable of 150 lbs, your platform capacity will be reduced to 250 lbs, including the operator and any tools. Similarly, if your platform's capacity is 1,000 lbs and you have glazier kit with a tray capacity of 250 lbs, your platform capacity may be reduced to as little as 500 lbs.
Expect to pay: Around $400 to $600 to purchase and $15 to $100 per day to rent.
Cutting packages
Another accessory designed to increase productivity is a plasma-powered cutting package. With some models proven to cut up to 50% faster in comparison to oxyacetylene torches, this tool boosts safety by eliminating the dangers caused by draped hoses and oxygen or acetylene tanks.
Plasma cutting packages are capable of making cleaner more precise cuts through adjustments that are made right on the platform. They also avoid damage to the work area by preventing the heating and warping of adjacent work surfaces. These functionalities make them popular among a variety of welders in heavy construction, aerospace, and manufacturing.
Expect to pay: Anywhere from $900 to $5,200, with prices commonly falling in the $2,200 range.
Welding packages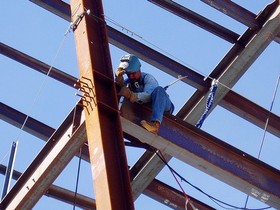 Having a welding package on your lift will ensure dangerous maneuvers like this can be avoided.
Conserve platform space while removing the potential for accidents caused by leads hanging over the lift rails. Used in a variety of industries - including construction, fabrication, farming and ranches, and routine facility maintenance - welding packages further boost the ROI of your investment by eliminating the need for a stand-alone welder and companion power source.
One of the more common tools found on an industrial scissor lift, welding kits prevent workers from having to move and reposition bulky tanks, various leads, and the welding machine itself by integrating the welder with the lift's scissor leads then drawing on its battery for power. Quality kits provide the capability for either tungsten inert gas (TIG) welding or shield metal arc welding (SMAW), more commonly known as "stick welding."
Expect to pay: In the neighborhood of $1,800 to $4,500, with the higher range offering the widest customizations and control, as well as both TIG and SMAW capability and AC/DC versatility.
Deck extensions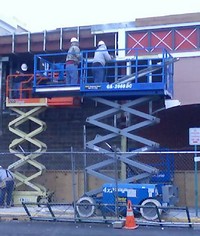 As the name implies, platform extensions increase the amount of available platform space and lengthen reach for workers. Providing a combination of safety and increased functionality in hard-to-reach spaces, common deck extensions range from 1 to 5 feet. They have now become so popular they are even included as standard equipment on many models for their ability to save painters, decorators, maintenance personnel, and a host of drywall, siding, and panel installers from having to move or reposition the lift to access areas that are just beyond reach.
Additional deck upgrades provide the capability of dual deck extensions, further increasing platform space, reach, and functionality.
Expect to pay: Anywhere from $350 to $1,000 for aftermarket upgrades and less if included with initial purchase.
Pipe racks
Similar to glazier kits, pipe racks store an extensive range of conduit or pipe, increasing worker productivity while enhancing safety. Sometimes offered as an upgrade but also provided standard on scissor lifts designed for plumbers, electricians, and facilities maintenance, pipe racks can be used within almost any location as they feature a design that enables them to swing inward for storage and travel. This feature further maximizes worker productivity by enabling the lift operator to transport a full load of materials from staging area to work area, even within constricted spaces.
Expect to pay: From $800 to $1,200 for aftermarket add-ons, and less when included with a specialty, industrial-specific package upon initial purchase.
Ready to Compare Aerial Lifts Price Quotes?