Komatsu Backhoe Loaders
Founded in 1917 by Takeuchi Mining Industry, Komatsu Iron Works was intended to manufacture machine tools and mining equipment for in-house use. In the nearly 100 years that have passed since, it has become one of the world's premiere manufacturers of construction and mining equipment, utilities, forest machines and industrial machinery.
Komatsu delivers power to the backhoe with the same HydrauMind hydraulic design as its excavators. The system makes excavator-style electronic-over-hydraulic control an option on all of the company's backhoes.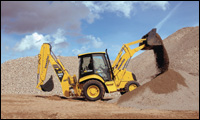 Operator-centric features
Komatsu backhoe loaders feature rigid 2- and 4-wheels steering models and prides itself on machines that offer complete optimization of the operator's work environment through state-of- the-art technical solutions and a wide range of optional equipment and configurations.
According to the manufacturer, "the operator is at the centre of Komatsu's attention." As evidence, some of the most popular features include:
360 degree visibility within the operator station, including adjustable seat, steering, and backhoe controls to accommodate any operator
Clustered switches and gauges to simplify operation
Tilting engine hood that's easily opened when the loader is in the raised or lowered position
Two working modes, enabling the operator to choose between maximum power and minimum fuel consumption
Optional telescopic arm that can increase the dig depth to 5,533 mm / 18'2".
S-Boom design that delivers enhanced visibility, thereby enabling the operator to avoid obstacles when digging or loading trucks
In addition, flow from the variable piston pump is managed by a "Load-Independent Flow Divider" main valve that keeps the speed of each function independent, even when load resistance varies. And the optional heavy-duty power shuttle transmission upgrade further enhances productivity by providing shift-on-the-fly capability through a column-mounted lever.
Komatsu's backhoe-loaders are manufactured at the company's plant in Newberry, S.C.
Ready to Compare Backhoe Loaders Price Quotes?