Bobcat

Bobcat Company is an American-based manufacturer of compact equipment. The company's headquarters and production facilities are located in North Dakota. Bobcat products are used in numerous applications including construction, landscaping, agriculture, utilities, industrial, mining and more.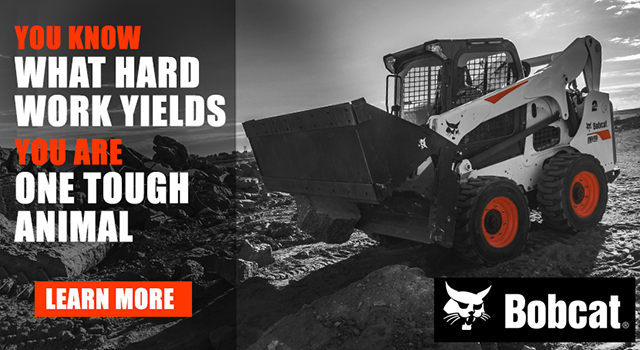 Skid-Steer Loaders - Bobcat invented the world's first skid-steer loader more than 50 years ago and is the leader in loader innovation.With more than a dozen different models to choose from, customers can find the exact machine for the required job. A variety in radius or vertical lift path, size, weight, hydraulics, cycle times and travel speeds make Bobcat loaders unique. They also offer easy access to routine maintenance areas and the industry leading level of cab comfort, with ample room, optional heating and cooling, and pressurized cabs. It's simple to change attachments quickly with the standard Bob-Tach® mounting system or the optional Power Bob-Tach™ mounting system.
Read more about Bobcat's skid-steer loaders:
K-Series (review)
M-Series (review)
M-Series (PDF brochure)
Compact Track Loaders - Bobcat compact track loaders offer big results in a small package. The track loaders stay efficient in even soft, sandy, wet or muddy conditions with a high horsepower-to-weight ratio. Choose from three types of controls and two undercarriage options including solid mount undercarriage or Roller Suspension™ system. Bobcat offers 67 different attachments to meet any type of assignment.
Mini Track Loaders - Bobcat mini track loaders are walk-behind machines or ride-on machines that are compact in size and deliver rugged dependability along with jobsite convenience. Mini track loaders have minimal ground disturbance, featuring durable rubber tracks to keep the machine working in soft, wet or muddy conditions. Mini track loaders are simple to operate with travel speed and direction, lift and tilt at the operator's fingertips. There are 15 different attachments to help minimize manual labor and improve jobsite efficiency.
Compact Excavators - Also known as "mini excavators," these machines are designed to deliver greater strength in a lighter piece of equipment. Throughout each model, there are enhancements that save time and labor, including auto-shift travel, auto-idle function and precise fingertip controls. Cab comfort and visibility are two key features found on M-Series models: reduced noise levels, improved climate control and convenient storage inside the cab. A new X-frame undercarriage offers better ground clearance and less cleanup time and an integrated slew brake hold the machine steady while working on a slope.
Telehandlers - The V417 VersaHandler telescopic tool carrier (TTC), a multipurpose utility machine, combines the speed, agility and strength of a skid-steer loader with the extended reach of a forklift. With the right attachment, the V417 is ideal for loading, digging, grading, backfilling, and more.
Utility Vehicles - Bobcat utility vehicles (UTV's) are designed for homeowners with acreage, agriculture producers, building and grounds professionals, municipality employees, resort staff, construction workers and more. Bobcat UTV's are available in two-wheel or four-wheel drive, and are powered by gas or diesel engines. Bobcat has two hydrostatic utility vehicle models - the 3600 and 3650 - and a unique attachment mounting system to operate PTO-driven or hydraulically activated attachments. Operators using the machines can change drive modes with the flip of a switch, can quickly load and unload cargo and use the single travel control pedal to easily travel forward or reverse. Carry up to six passengers comfortably with the 3400XL model.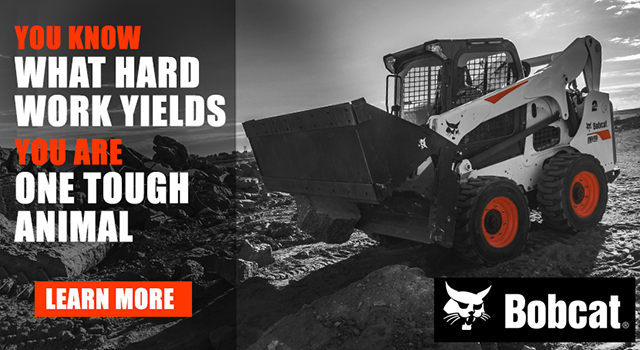 Toolcat Utility Work Machine - Toolcat™ utility work machines provide all the best features of a pickup truck, tractor, skid-steer loader and utility vehicle to save time and money. Available in two models, the machines can comfortably transport two people, haul all the tools to a job site, operate front-mounted attachments and finish the job in one trip. Bobcat's hydrostatic traction control (HTC) system provides superior traction and precise maneuverability on snow, ice, loose gravel or dirt. And with more than 40 easy-to-change attachments, the transition between tasks has never been easier.
Ready to Compare Skid Steer Loaders Price Quotes?