How to Find the Best Skid Steer Loader For Your Landscaping Business
Landscaping businesses are required to perform a variety of tasks that are well suited to a skid steer loader, from mowing grass and rolling sod to moving large rocks and trees. Any number of skid steers could actually fit the bill. So finding the one that's right for your business has a lot to do with the specific services you offer, the size of the machine itself, and the attachments you select to minimize work and maximize your productivity.
Here's how.
Landscaping considerations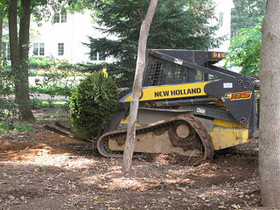 If your clients are primarily residential, one of the things you need to consider in the skid steer you purchase is the size. To be used in a residential environment, the skid loader you choose should be narrow enough to fit between the average yard gate entrance to ensure you can enter the client's property with minimal disruption.
Landscaping in some regions and conditions may require the use of tracks rather than tires. Tracks are often preferred by landscapers, as they reduce soil compaction and ground pressure. They also improve maneuverability and traction when working in the mud and loose soil that can sometimes be found in new developments. If you do choose to use tracks, ensure that any skid steer loader you choose has adequate clearance between the sidewall of the tire and the frame to allow the tracks to stay clear during tight turns.
Attachments
Backhoes
Brush chippers
Dumping boxes
Mowers

Landscape rakes
Soil conditioners
Tree shears
Utility spades
Next, consider all the attachments you may need now and in the future, and ensure that the skid steer loader you purchase is compatible with the attachments necessary to maintain and grow your business. Some of the most popular for landscaping include:
Many manufacturers like John Deere or Bobcat produce a wide range of attachments for all seasons. Designed primarily for use with their machines, many of these attachments are also compatible with other machines within that manufacturer's lineup, saving on the cost of additional equipment - not to mention the time and expense necessary to maintain it.
A final option is an attachment vendor, like Erskine. Companies like this produce a wide range of attachments that perform the same functions as the major brands but are universally compatible with most skid steers on the market today - just like an aftermarket manufacturer for auto parts.
Depending on the specific attachment, you can expect to pay $700 to $1,000 for something basic like a blade and more than $9,000 for something like a hydraulic breaker or tree shears.
Expand your business during slow months
In many areas of the country, winter is a slow time for landscapers, and you may wish to keep staff and equipment busy during these months by offering snow-clearing services. Snow blades and snow blower attachments are available for all types of skid steer loaders. Like any other attachment, they're quickly mounted through the same direct hydraulic connection. But there are a couple of additional things to pay attention to if you hope to get the most out of a snow attachment.
While snow plows and blades are pretty standard, there are two critical factors to consider when purchasing a snow blower:
Gallons per minute
Hydraulic pressure (psi)
These two elements will directly impact the overall performance you'll receive from the attachment and should be discussed with the seller you choose, taking into account the depth and conditions of snow you'll be moving.
And don't skimp on comfort. If your region has extreme weather conditions, it might also be worthwhile to ensure the machine you choose can be used with a basic or even a heated cab enclosure. Your employees will be able to work longer and better if not exposed to the elements in the coldest days of winter.
A few safety considerations
Finally, because landscapers often work where people live and kids play, it's important not to neglect safety features when choosing a skid loader. Make sure any loader you choose has excellent driver visibility, rear-view mirrors, warning lights, and backup alarm.
So, what is the best skid steer for your landscaping company? It is the machine that best fits with how and where your business is run. The right skid steer loader can increase your productivity and revenues and keep your customers happy with the job you are doing for them. So don't make a hasty decision. Consider all the requirements of your business and compare the value and features of the machines that best satisfy your needs.
Ready to Compare Skid Steer Loaders Price Quotes?