Cab and Control Refinements Boost Skid-Steer Power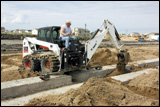 With a variety of weights, horsepower, hydraulic capabilities, and attachments at your fingertips, the modern skid-steer is more powerful than ever! Designed to handle a wide variety of demanding tasks, most equipment manufacturers focus on two specific areas of customization: operator stations and hydraulic performance. Through a variety of different capacities and components, skid-steer manufacturers are able to differentiate these multi-purpose mid-sized machines among competitors, creating a wealth of modern earth-moving functionalities.
Here's what to keep an eye out for.
Capacity and horsepower
In recent years, the once narrow weight capacity has seen a dramatic expansion in capability. Common operating capacities now start around 1,400 lbs and go as high as 3,600 lbs., enabling them to function as effectively for residential purposes as they do on the jobsite.
The increase in capacity also requires a boost in horsepower. New machines range from 47 hp on basic models to 110 hp for industrial-grade equipment, with standard hydraulic-pump flows ranging from 16 to 40 gallons per minute and hydraulic pressures from 3,335 to 4,060 psi and up.
Even within this narrow size-class, other types of construction machines such as backhoe-loaders, wheel loaders, and excavators are hard-pressed to produce such wide spreads in performance.
Operator stations
Operator comfort is the key to high productivity because it allows the operator to work longer hours. Optimal comfort results from a combination of features, including:
Larger entry/exit area - makes it less likely for the operator to bump their head or body when entering or exiting the machine. This has become a sought-after feature by those who have to climb in and out of the machine all day.


Swing-open door - quickly removed without tools to allow for further convenience and customization. Plus, this design enhancement doesn't take up precious cab space.


Flip-back controls - provide easy entry and exit.


Side-mounted instrumentation and accessory switches - located within easy reach to provide safe operation without obstructing the operator's view of the work area.


Low-effort servo hydrostatic controls - help reduce operator fatigue and increase control to make novice operators good, and good operators better.


"Fingertip" joystick controls - simplifies operation by making attachment operation comfortable, convenient, and accurate.


Air conditioning - enables work to continue for extended periods of time in cold or hot climates.


Speed control - a big addition that boosts both comfort and productivity, this enhancement was created to reduce operator stress. It allows the operator to set a desired ground speed which the skid-steer maintains with minimal control effort. For example, an operator using a planer attachment for long shifts can simply select the ground speed that suits the attachment and milling conditions. The machine will then run at that speed whenever he pushes the joystick forward. The operator doesn't have to feather the controls to hold the machine at a desired speed.
Attachments and accessories
A large percentage of higher-end models come standard with high-flow hydraulic pumps, or at least the option to upgrade. Reportedly boosting flow by 50 percent or more over standard flow rates, this productivity enhancement makes the machine a more aggressive loader. But its primary purpose is to drive hydro-mechanical attachments such as:
Breakers
Brooms
Cement mixers
Cold planers
Log splitters
Mowers
Mulchers

Rock crushers
Rototillers
Sand-baggers
Snow blowers
Tree saws
Trenchers
Water pumps
The introduction of new attachments allows for even greater applications, a fact made obvious by the increased number of package deals and the booming sale of attachments.
With such a range of hydraulic performance and accessories to choose from, as well as differences in designs of loader arms and wheelbases, there's a mid-sized skid-steer matched to any job. If you're in the market, start by considering your needs.
Then the fun part: go out and test-drive a number of different skid-steers to find the one that aligns with the combination of capabilities, features, and cost best-suited to your needs.
Ready to Compare Skid Steer Loaders Price Quotes?