The Pros & Cons of Artificial Dog Turf
Many dog owners over the years have made the choice to use an artificial dog turf for their yards and kennel areas. As with anything, there are both pros and cons to using this type of application.
Pros of artificial dog turf
There are a few reasons why people would consider artificial dog turf. One of the reasons one may choose artificial turf for their dogs is because the dog or dogs are tearing up the yard and tracking dirt inside of the house. Another reason one may consider artificial dog turf is that it is a lot easier to clean than regular grass.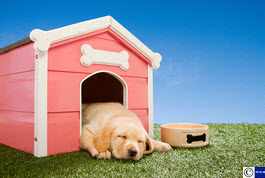 There are several great advantages to artificial turf for your dog:
Helps keep the water bill low - Since you will not have to worry about watering the lawn, artificial turf can lead to significant savings over time.
You will not need to mow - If you are someone who doesn't like yard work, this could be a great solution. No mowing, no weeding, and simple maintenance may work well for you.
The artificial turf looks great all year long - You will always be able to have a lush green lawn, even though it is artificial. Dog waste will not discolor the turf, either.
Pets stay clean - Since there will be no mud or dirt to contend with, your dog will be able to come in and out without worry of them being dirty. This turf can also eliminate digging, a problem for many dog owners.
Cons of artificial dog turf
Though the pros of artificial dog turf are great, there are also cons that you should consider:
Artificial turf can get hot - If you live in an area with a lot of sun, the surface of this turf can get hot and it may be uncomfortable to walk on.
If you don't clean it well, it will smell - You know what your dogs are doing on this turf, so you need to keep it clean if you want to make sure it doesn't smell like urine or feces. Hosing the turf with a water hose weekly and treating it with bleach or vinegar can help with odors.
Costs for turf, supplies, and installation
Dog turf doesn't come without a price. But knowing how that price is calculated may be able to save you some money when shopping around for installation. For most outfits, the total cost of dog turf is affected by materials, fees (dump, fuel, delivery, etc.), labor/installation, overhead, and markup.
With that in mind, you can expect to pay between $2 to $3 per square foot for medium- to high-grade dog turf. Among the more popular brands, you can expect to pay $2.50 per square foot, excluding tax. But the turf itself is only the beginning. Additional costs include:
Base
Weed barrier and killer
Bender board
Construction supplies (tape, glue, staples, stakes, etc.)
In addition to the fees mentioned above, which can cost $150 to $200 each depending on your location, you're looking at another $1,000 to $1,500 in supplies.
Last but certainly not least, is the labor, overhead, and markup. In addition to the cost per square foot of the turf itself, plan on paying between $2 to $3 per square foot for installation. You can also expect the company to tack on a 5% to 15% markup on the total of the raw materials and labor to cover operational costs.
So with that in mind, you're paying anywhere from $7 to $9 per square foot for a new dog turf, all included.
Buying tip: when budgeting for the turf itself, plan for between 10% to 20% waste, as synthetic lawn typically comes in 15-foot widths, like carpet. Unless your area fits those dimensions exactly, there will be trim pieces that go to waste.
Only you can make the choice about artificial dog turf. For some households it will be a lifesaver, but for others, they may want to weigh the pros and cons in order to determine if this is the best choice for their situation.
Ready to Compare Artificial Turf - INACTIVE Price Quotes?