Synthetic Lawn Prices
If you have been considering a synthetic lawn for your property, one of your top concerns will be the price of this application. The truth, however, is that there are many different types and options available that will affect your price. The following are a few options to consider: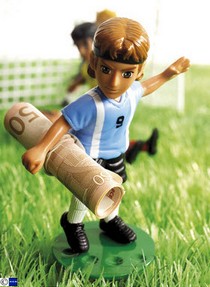 Infill vs. no infill
One choice that can lead to a big difference in price is choosing infill vs. no infill. Infill is a material that is placed deep in the artificial turf. These small particles will help to hold up the artificial grass blades and make the surface spongy.
Infill turf will run, on average, $1.70 - $4.00 a square foot for average quality turf. On a 2000-square-foot lawn, you can expect $3,400 - $8,000 on the material alone.
No-infill turf is turf that is designed in a way that the blades of artificial grass stand up on its own. Typically, no-infill turf is more expensive and can run from $3.00 - $6.00 per square foot for an average quality turf. On a 2000-square-foot lawn, no-fill turf will cost from $6,000 to $12,000 on average for materials.
Using the size 2,000 square feet for a normal city lawn:
Least Expensive Artificial Turf - $4,000 - $8,000
Middle of the Road Artificial Turf - $8,000 - $12,000
Highest Quality Artificial Turf - $14,000 - $26,000 +
Adding installation cost
Though it is possible to install an artificial lawn yourself, it is not recommended. Installation can be several hundreds to thousands of dollars, depending on the size of your yard. It's safe to estimate that you will add $4,000 to the material cost on average, though prices will vary based on the size of the yard and how much leveling and labor is involved.
For a 2,000-square-foot sod yard, you can expect to spend, on average, about $4,200 every year. This includes watering, fertilizer, herbicides, and pesticides.
Typically, you're given a warranty on artificial turf ranging from 5-10 years. This means that at some point, you would likely get a return on your investment if you have an average-sized lawn of 2,000 square feet.
In addition to the artificial lawn materials and installation, there are other costs to consider:
In most cases your artificial turf will need to be professionally shipped, as it will be customized for your yard. You can expect a shipping price of anywhere from $0.15 - $1.50 per square foot.
You will also need some type of base material to place the turf on. Many times this will be crushed limestone. This costs anywhere from $0.50 - $1.00 per square foot.
Sometimes these things are included when you get your artificial turf professionally installed, sometimes they are not. It is important to know what is involved in the price of your artificial turf before purchasing.
Although this may seem expensive, artificial turf is an investment that can begin earning a return on your money fairly quickly. For many people, this investment will pay for itself in only a few years' time. The most important aspect about installing artificial turf is making sure you have researched all costs thoroughly in order to limit unpleasant surprises
Pros and cons
Knowing the pros and cons of having artificial turf can also help you to make a decision and to figure out the "real" cost of artificial turf.
The pros of artificial turf include:
Little maintenance
It is very durable, resilient and safe
Will not have to worry about flooding, mud or dirt
Easy to clean
The cons of artificial turf include:
High cost
Not permanent
Can get very hot in the sun
Can release harmful gases
Ready to Compare Artificial Turf Price Quotes?