Everything You Need to Know About Artificial Turf Infill
Are you considering artificial turf for your property? If so, one of the things you'll need to decide before making your choice is whether you need infill or not. There are situations where infill may be a necessity and other times you probably won't need it at all.
Here's a quick look at both scenarios.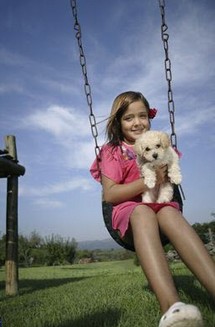 It's a good idea to include infill on playgrounds.
What is infill?
When it comes to artificial grass, infill is sand or other materials that are placed between the blades of the artificial turf. The infill is meant to help the blades stand up straight and to look more like natural grass. It's also meant to feel like soil when walked on, and can help the entire layout of turf look more real.
Necessary situations
It is recommended by professionals to use infill if you are using your artificial grass for any of these situations:
Athletic fields
Playgrounds
Dog exercise runs
High traffic areas
Unnecessary situations
You do not necessarily need to use infill if you are installing artificial grass for any of these situations:
Pet areas
Aesthetics
Hills or slopes, especially if they are steep
Decks, patios or balconies
Areas that are less than 500 square feet
Types of infill
If you decide to use infill, your next decision will be what type of infill to consider.
Silica sand is usually one of the most popular choices. It is extremely durable, though it can be a bit messy, especially if this is an area where there is a lot of action. Many pet owners will choose silica sand as infill for pet runs, as it absorbs pet odors well.
Rubber from recycled tires and shoes is also used as infill. Typically it is mixed with silica sand in order to keep the sand from becoming too compact, and gives a more natural feel to the sand. Rubber can also be used alone, which gives the artificial turf a springy feel. Rubber does not work well for pets, but is generally fine for athletic areas. It also has the added benefit of being an environmentally-conscious choice, reportedly reclaiming more than 30% of the 110 million discarded tires in the United States each year, turning them into sustainable products while alleviating the demand for "new" source material.
Synthetic infill is also available, and for people who like an eco-friendly option, this is for you. Brand names like Durafill are very safe, green, and non-toxic. It resists urine from animals, stops bacteria growth, and will not get hot from the sun like other infill types can. This infill is recommended for school playground areas and home lawns.
Depending on the type you select, expect to pay anywhere from $30 to $50 per 50-lb bag of infill, with discounts available for bulk/pallet purchases. To budget accordingly, plan for around 1.5 lbs per square foot of artificial turf.
Ready to Compare Artificial Turf - INACTIVE Price Quotes?