Restaurant Commercial Cleaners Protect Against the Norwalk Virus
A major study recently reported that the Norwalk virus, commonly known as norovirus, is the leading cause of hospital visits for children. As a gastro-intestinal illness, symptoms can be severe - particularly in young children or the elderly - and people carrying the virus can spread it quickly through touch. The illness is spread through unsanitary conditions, often through the unsafe handling of food or water.
Norovirus in a restaurant setting
Norovirus can spread when an employee or customer touches a contaminated surface - a table, door knob, or counter, to name just a few. Direct contact with a person who has the virus, eating contaminated food, and drinking contaminated water are other ways the virus spreads.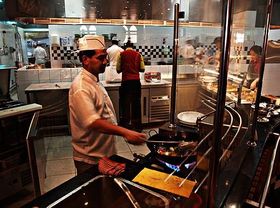 Employing strict hand-washing policies among restaurant employees can help prevent the spread of this illness, but it's often not enough. A professionally sanitized environment will do a lot more to prevent norovirus, not to mention a wide range of other illnesses, from spreading to employees or diners.
If customers get sick and blame you, the results can be hugely detrimental to business. They may file a complaint with local or state authorities, making your business the newest local restaurant news item. Negative publicity aside, stop and think what a poor health inspection rating could mean for your business.
The benefits of a commercial cleaning service
To keep your restaurant free of infection, choose a seasoned commercial cleaning service that uses industrial-strength sanitizing and cleaning products to completely remove the bacteria. Germicidal products specifically made for cleaning restaurants are more reliable than the rag and bucket your employees may use. A reputable company that uses effective, commercial-grade products will be able to tell you which materials it uses, and what processes it employs when doing a thorough cleaning.
Plus, commercial cleaners that service restaurants specialize in avoiding cross-contamination between the detergents and chemicals used in the cleaning process and any food or surfaces that come into contact with food.
Before hiring a service, ask about the way it cleans restaurants. Choose an agency with experience in cleaning food establishments, as its workers will know about sanitary standards and what materials safely clean surfaces. While your employees may cut corners as they clean, a quality service agency with its reputation on the line will not. Ask the agency for references, and check them, before you sign on. Typical areas serviced include:
Grease exhaust and grease filters
Air ducts and air filters
All kitchen equipment
HVAC services
Pricing for restaurant cleaning services
The costs you can expect to pay will vary depending on the type of cleaning you need done. Keep in mind, some services (like filter replacement) will only need to be completed on a semi-regular basis. Common rates include:
Standard cleaning of kitchen, food preparation areas, dining room, lobby area, and restrooms, including vacuuming, dusting, and mopping will be billed between $15 to $45 per hour or 5 cents to 20 cents per square foot
Carpet cleaning costs $15 to $25 per hour without equipment and supplies, and $20 to $45 per hour including supplies - now also including eco-friendly cleaning products
Specialized tasks like the cleaning of large kitchen appliances, grease exhaust, air ducts, and similar labor-intensive items run from $40 to $150 per hour depending on the task
Ready to Compare Commercial Cleaning Services Price Quotes?