Three Scenarios that Signal Your Business Needs a Cleaning Service
Who needs cleaning services? Your business does, if it falls into one or all three categories below.
1. Employees are spread too thin
Without a commercial cleaning service, you and your employees are likely the people who clean the office. While you might think that method would save your company money, in the end that's usually not the case. If your staff members are spending their time cleaning, those valuable minutes take time away from their primary business tasks.
When you outsource the job to a professional cleaning organization, you reduce the number of tasks for your employees. Without the need to clean, they have more time for activities that bring in revenue for your business.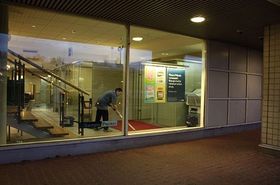 Your business will also save time that would be spent training employees in how to use chemicals safely. The money you spend on the cleaning company is likely less than the loss of that revenue. In addition, you won't need to give out rewards and extra bonuses and incentives to staff members in return for their cleaning duties. Plus, the presence of a commercial cleaning company indicates that you care about your employees and their well-being, further boosting morale and job satisfaction.
As a general rule, a business with more than 20 employees will often find that they need at least occasional help maintaining restrooms, break rooms, and high traffic areas.
2. Unpleasant environment for staff and clients
If your office space isn't clean, it's probably unpleasant to work in. Make everyone more comfortable by hiring cleaners to sanitize, dust, and organize their work spaces.
For your employees. Reducing office clutter has a big impact on how employees behave: Clutter can add to your employees' stress, and a messy space slows down paperwork by obstructing access to drawers or cabinets. A clean environment is one that looks professional. Your staff members not only deserve to work in pleasant spaces, they will also be more innovative and productive in a sanitary environment.
For your clients. If clients frequent your office, your business almost definitely would benefit from a cleaning service. A professional-grade cleaning gives customers a terrific first impression of your business. A client likely infers that your company takes pride in its work space, and receives assurance that you will care for clients as well as you care for your office.
3. Employee health issues
So who needs cleaning services most? A business with an increase in the number of sick employees. When absenteeism spikes, you need to look at the cause - and it may be that your office is not getting the thorough sanitation it needs. Office surfaces such as counters, printers, and computers can easily pick up bacteria, pass on germs to all who touch them, and spread illnesses among your employees.
Why gamble with the health of your workers when you can hire a professional cleaning service instead? An agency with years of experience has quality equipment for deep cleaning, and knows which chemicals to use safely on which items. Your employees stay healthy and ready to work.
The need will vary from company to company:
Businesses that deal in manufacturing or similar processes that produce air-borne contaminates, like sawdust, brick dust, and fine particles that tend to gather on exposed surfaces, will find they need regular cleaning services to prevent respiratory problems among employees.
An office environment can gather dust too. And employees who are extra sensitive, due to allergies or preexisting conditions, will struggle in an environment that isn't clean.
Any facility with mold or mildew present should immediately contract a professional cleaning service, and may want to ask about a chem-dry solution for the best results.
When you hire a professional cleaning company, make sure it has references that testify to its ability to provide quality. Arrange for the cleaning crew to come at times that work best for your business to keep operations running smoothly.
Ready to Compare Commercial Cleaning Services Price Quotes?