Eco-friendly Cleaning Services Versus Standard Commercial Cleaners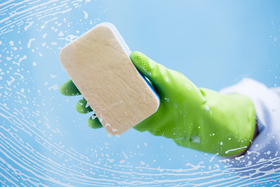 Eco-friendly cleaning services are becoming more and more popular as businesses become conscious of making sustainable, environmentally-friendly choices. Businesses hoping to reduce their carbon footprint may choose a green cleaning service over a non-green competitor that primarily uses heavy chemicals for standard cleaning.
Here's why.
Standards through LEED certification
The dramatic difference between an eco-friendly cleaning service and a standard commercial cleaning company is the use of environmentally-friendly cleaning methods. In order to determine that a green cleaning service is truly "green," it's important that a service is LEED certified by the United States Green Building Council. LEED certification will confirm that a cleaning company uses eco-friendly practices and meets strict guidelines for green cleaning product usage in all commercial settings.
The EPA also recommends the use of green cleaning companies to minimize the amount of harmful chemicals emitted during routine commercial cleaning. Green cleaning companies can rely upon the Alternatives Assessment Program set in place by the EPA to choose confirmed eco-friendly cleaning products. This will ensure that a company cleans with the safest chemicals to benefit both the environment and the health of employees or customers in a workplace.
Eco-friendly cleaning service benefits
By some estimates, the number of new "green" cleaning services jumps by 20% every month. That seems like a lot. But with the wide range of benefits provided, it's easy to understand why. Nevertheless, when comparing eco-friendly cleaning services to their standard counterparts, two of the most important concerns to business owners continue to be cost and service.
In terms of cost, the eco variety is still slightly more expensive; but not a lot. According to recent statistics reported by those who've used both types, green cleaning services range between 10% to 20% more expensive on the whole. It's worth noting that these figures are based on the cost of the actual services themselves and don't take into account any credit for diminished regularity. Expect to pay anywhere from $35 per hour for standard services to $45 per hour for things like H.E.P.A. vacuuming. Non-toxic carpet cleaning and other specialty services of a similar nature are typically billed per square foot.
The good news is that, no matter what you need done, a green cleaning service can provide many of the same services as a standard commercial cleaner without posing a risk to employee health or the environment. Common tasks include: building maintenance, event cleaning, janitorial maintenance, sanitation and odor control, laboratory cleaning, and pressure washing.
Unlike traditional methods of cleaning, the eco-friendly option provides additional benefits that include:
Healthier facilities, free of mold and mildew, resulting in fewer allergies
Minimizes human exposure to harsh chemicals and contaminates
Better indoor air quality
Reduces wear on carpet, furniture, and other interior surfaces
Reduce environmental footprint
Socially-responsible corporate image
Plus, a number of green cleaners even provide "green cleaning consultation." This can help your business create a customized eco-friendly cleaning plan for the office, enabling in-house janitorial staff to continue the green initiative while saving on the cost of a third-party provider.
Ready to Compare Commercial Cleaning Services Price Quotes?