ServiceMaster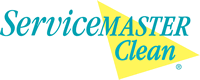 With more than 60 years of experience, ServiceMaster Clean® is a market leader, providing a range of residential and commercial services. All services use their Green Cleaning products - just as effective as traditional products but better for the environment. The Green For(r) suite of cleaning products:
Reduce environmental impact
Are odorless and solvent free
Offer less detergent residue
Contain no VOCs (volatile organic compounds)
Are approved by leading environmental organizations
The ServiceMaster Clean patented Capture and Removal Cleaning(r) system combines powerful products, advanced technologies and a high-productivity approach to create an efficient and effective cleaning process. It reduces cleaning time by up to 25%, boosting your bottom line. It also traps and takes away dust, dirt and debris, capturing as much as 55% more airborne particles than traditional cleaning methods.
All ServiceMaster Clean janitorial services include:
Daily, weekly, or monthly service
Office system cleaning
Kitchen and restroom cleaning
Waste removal
Daily carpet care
Hard floor maintenance and cleaning
Dusting and window washing
ServiceMaster Clean also recognizes that different industries have different needs. They have put together comprehensive training packages for their staff, ensuring that each facility gets the special attention it requires.
Education Cleaning - Recognizing the need for a clean, high-quality learning environment, ServiceMaster Clean focuses on sanitization and improved indoor air quality.
Healthcare Cleaning - Created in compliance with CDC, The Joint Commission on Accreditation of Healthcare Organizations (JCAHO) and HIPAA standards, the ServiceMaster Clean ensures that their staff is able to properly provide specialized cleaning services customized for any facility, including infection control, blood borne pathogens and other common problem areas.
Hospitality Cleaning - ServiceMaster Clean offers a wide variety of cleaning services to the hospitality industry, including carpet and hard surface floor cleaning, slip and fall solutions, PTAC cleaning, fire, water and smoke restoration and general housekeeping services.
Clients can also save by using ServiceMaster Clean's Daytime Cleaning. If something needs attention or improvement, a day schedule allows for faster resolution and more effective communication. It leaves fewer people in the building after regular business hours. Customer staff and ServiceMaster Clean staff will interact on regular basis, providing consistency in service, experience and familiarity. Flexible scheduling is available so important meetings or events are not interrupted. All of this saves time and money while getting the best value for the cleaning dollar.
More ServiceMaster Commercial Cleaning Services Information
Ready to Compare Commercial Cleaning Services Price Quotes?