ServiceMaster Clean - Carpets, Flooring, and Upholstery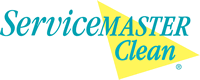 A clean environment is one of the first things your customer sees as they step into your office. With plush carpet, spotless upholstery and gleaming floors, their first impression of you will demonstrate "success" and "people who care." It tells your customer, without saying a word, that you are committed to a high level of service and trust. ServiceMaster Clean understands the true value of "clean" to your business.
With more than 50 years in the carpet cleaning business, ServiceMaster Clean knows how to keep your carpet looking its best - and lasting the longest. Every year, over 5,000 customers trust them to clean more than 100 million square feet of commercial carpet. And their relationships with carpet manufacturers keep them current in proper care techniques, ensuring your carpet's long life and enhanced appearance.
More ServiceMaster Clean Information
ServiceMaster Clean uses proprietary, highly effective environmentally friendly products to remove spots and stains and deep clean your carpets quickly and efficiently. This cleaning actually prolongs the life of your carpet while working to save the environment as well.
ServiceMaster Clean can also preserve your hardwood flooring. The ServiceMaster Clean proprietary hard surface floor care technology helps maintain the beauty of your hard floors, from marble to wood. Their specialized green products bring out the shine while protecting the surface from daily use and abuse.
ServiceMaster Clean also works to maintain your furniture and upholstery. Recognized as a compliment to the flooring, it is treated with care, using just the right products, equipment and methods for the fabric type and soil conditions. Why buy new when the old furniture looks so great? Extend the life of your furniture and the comfort of your employees through quality maintenance and regular cleaning.
Surfaces will shine and furniture glow with the consistent and quality cleaning services offered by ServiceMaster Clean.

Ready to Compare Commercial Cleaning Services Price Quotes?