Types of Specialty Cleaning Services
There are many commercial and private cleaning services available in the market. While most people know about the standard services provided when you opt for a professional cleaning service, the details regarding specialty services are not as well known.
As the name suggests, these services are additional to the standard package and deliver in-depth, deep cleaning services that tackle larger or more complex cleaning projects.
Kitchen and breakroom services
The kitchen and breakroom in commercial establishments is a space that is used by everyone on a daily basis multiple times. While standard cleaning services do include kitchen and break room cleaning in their visits, the nature of the area demands a more targeted and consistent cleaning schedule.
One factor to consider is the cleaning products. Since the area is used for the preparation and consumption of food, it's best to make use of green chemicals that don't pose a threat to those that eat there. There are many cleaning services like Jani-King which allow you the liberty of choosing a green cleaning solution.
Restroom cleaning services
The number one health hazard in any building can be found in the restroom. There is a need to pay special care and attention as a bathroom can be the source of diseases, including the following:
E. coli
Hepatitis A
Stomach flu
Staphylococcus
Common cold
Bathrooms need regular cleaning not only because of the health hazards but also because of the odors that tend to spread if they are not cleaned on a regular basis. Bad odors will have a detrimental effect on the overall perception of your establishment.
Restroom cleaning services typically work on a weekly basis. Focus is on the cleansing and decontamination of urinals, commodes, sinks and the floor.
Bacteria and soil buildup is prevented through the application of chemicals. A water rinse and vacuum is then applied to move any damp spots left behind. All fixtures are then blown dry and wiped clean.
Construction debris services
This is one of the most complex tasks where specialized cleaning services are demanded. Debris has an uncanny way of piling up, and cleaning it can be a mammoth task that cannot be undertaken by standard cleaning staff and equipment.
While you can use a dumpster, the associate costs and the heavy lifting and loading tasks associated may lead to a much larger problem in the long run. Typical services include: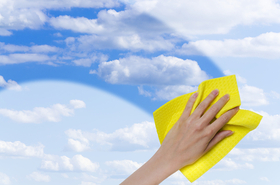 Removal of tape, plastic covering or tarps
Window and glass cleaning
Cleaning exposed walls and ceilings including fixtures for dust and debris
Sweeping and vacuuming
Removal of drywall, metal, wood and other items
Washing exteriors
Removal of labels and plastic from new fixtures
Sweep and mop floors
Healthcare cleaning
Healthcare cleaning doesn't just require the cleansing and removal of visible dirt but also the sanitization of airborne and atmospheric bacteria, which can cause infection or disease. Since a hospital is a place of healing, there is a need to remove any contaminants from the area that may cause problems for patients with already weakened immune systems.
Cleaning staff will do the following:
Remove carpet dirt
Sanitize surfaces
Improve air quality
Remove pathogens
Trash collection
Dusting
Medical equipment disposal
Window washing
When it comes to healthcare cleaning, it's important to make sure that the services are provided by HIPAA compliant companies working with registered cleaning staff. Another factor to consider is that no harsh chemicals are used and that greener alternatives are implemented for cleaning. This is because of the need to establish an environment that promotes healing for patients with weaker immune systems that need to avoid contact with any harsh elements.
Pricing
The pricing of each of the above tasks vary according to the services being opted for. In addition, the tasks required and the space in question also influences pricing. Work with BuyerZone to receive a free price quote for your business' needs.
Ready to Compare Commercial Cleaning Services Price Quotes?