The Battle Between Franchised and Independent Cleaning Companies
If you own a building, chances are you'll want to hire cleaners to ensure that the premises are kept clean and tidy for employees and customers alike. Outsourcing this task often makes good business sense, and you have the option of hiring a franchised company or signing with an independent outfit. Each model has its advantages, and you should weigh them carefully before making your decision.
Franchised cleaning service
The advantage in hiring a franchised cleaning agency is that you are dealing with a larger, stable organization, and you can more easily investigate the business before you make a decision about hiring. Poplar national providers include: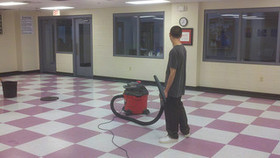 Vanguard Cleaning Systems
Jan-Pro Franchising
Stratus Building Solutions
CleanNet USA Inc.
Bonus Building Care
In these models, franchisees are governed by specific rules, including whether absentee ownership is allowed. In many cases, you will be dealing directly with the owner/operator of the business. Franchise owners are required to participate in ongoing training and evaluations, and they must observe specific safety and security procedures.
Franchise cleaning services do not allow the franchisee to offer flexibility in terms of pricing or types of service offered. Instead of specifying what they want, customers choose from a predetermined menu of services offered by the company. The franchisee would also be required to buy products from the parent company, so customers are not able to request hypoallergenic or "green" products if that is not what the franchise normally uses.
In comparison to an independent provider, you'll find franchised services slightly more expensive due to overhead and other related expenses. Expect to pay around $30 to $45 per hour. The upside to this price point is that many services will provide cleaning products and any equipment necessary.
Independent cleaning service
When you choose to hire an independent cleaning service, you may be able to request that certain products be used on your premises. The independent owner or manager may be more willing to accommodate fluctuations in your schedule, or other changes specific to your needs.
Since independent cleaning service are often local to the community and employ community members, using one could generate good will towards your business.
If you are considering working with an independent cleaning company, you will want to check out its reputation, as there is no guarantee that the owner will be involved in its day-to-day operations. Checking the company's record with the Better Business Bureau online is a good way to find out whether it is reputable. In addition, you should not hesitate to ask for references from other customers; they can give you honest feedback.
An independent cleaning service is usually locally owned, highly responsive on short notice, and generally less expensive, costing anywhere between $20 and $40 per hour. The downside is that they may not supply the necessary cleaning products required for your job (or you may have to pay extra for them if they do) and they may not have specialized machinery for certain tasks.
Before making a choice to hire a franchise or independent cleaners for your business, you'll need to decide whether you want to give up some flexibility in return for dealing with a company that has a specific brand name. You'll also have to weigh scheduling and cost when making your choice. All of these factors need to be considered carefully. And as with all business decisions, make sure you get quotes from more than one company.
Ready to Compare Commercial Cleaning Services Price Quotes?