Finding the Best Coffee Makers for Your Office
Do you fall within the 43% of workers that can't make it through the day without a cup of coffee? According to a 2012 Harris Interactive survey commissioned by Dunkin' Donuts and CareerBuilder, hard-working Americans need coffee each and every day to function in the office - and they need it bad.
It's no wonder that many offices turn to office coffee services to provide highly rated coffee makers for businesses across the US. While you may already have a standard coffee pot in the company kitchen or breakroom, it might not be able to handle the caffeine demands of your employees.
What you need to know about coffee drinking in the workplace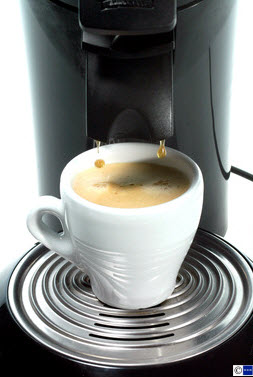 Based on the results of the CareerBuilder and Dunkin' Donuts survey above, you may have more coffee addicts in your office than you realize…
Survey results also revealed that:
53% of workers will drink two or more cups of coffee per workday.
28% of workers will drink three or more cups of coffee per workday.
Younger workers from ages 18 to 24 are more likely to rely on coffee.
47% of women depend on coffee for office productivity, compared to 40% of men.
Service industry workers, scientists, sales executives, marketing professionals, and nurses are the top five professions most likely to rely on coffee.
If your business falls into any of the categories listed above - with younger, female workers in a marketing firm, for example - you may want to put even more thought into your office coffee maker purchase. Understanding exactly how much coffee your workers are likely to drink will help you make a more educated buying decision to support daily brewing needs.
Shopping for an office coffee maker 101
Here are some things to look for when shopping for the best coffee maker for your office:
Features that work for you. If you want a fresh pot of coffee brewed from the minute you start your workday, consider a timer that will take your coffee from beans to brew at a time you specify. The best coffee makers will feature burr grinders, which break coffee beans into small pieces that won't end up in your coffee pot. A water filtration system will offer better coffee flavor than unfiltered tap water.


Keep it hot. Your coffee maker should reach temperatures of 200 degrees Fahrenheit to keep the coffee pot piping hot for hours at a time. Most offices prefer a coffee maker that brews into a thermal carafe to seal freshly brewed coffee and retain temperature for up to two hours after brewing.


Drink coffee or coffee drink? Consider what kind of coffee the majority of your workers will drink. If it's a regular pot of coffee, a drip machine will quickly brew multiple cups at once. For coffee-based drinks, you'll need an espresso or cappuccino maker, which requires more preparation time but produces only a cup or two at a time. Lastly, single cup brewers have become a recent trend in office coffee service with one-cup, freshly ground brewing that cuts down on the waste of brewing an entire pot each morning.


Clean taste. Even the best coffee makers require regular maintenance. Besides cleaning the inside and outside regularly, consider self-cleaning options that will keep your machine looking good as new and producing the freshest coffee.
Investing in the right coffee maker for your office can benefit your company in more ways than one. Most importantly, it can help to improve employee productivity by providing a much-needed boost of caffeine; it will also cut down on time wasted when employees step out to grab coffee at Starbucks around the corner.
Ready to Compare Office Coffee Services Price Quotes?