Commercial Coffee Machine Pricing for Office Coffee Services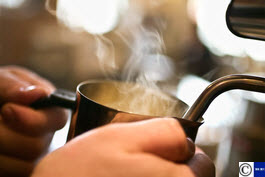 Providing your employees with their daily coffee fix is a great way to boost company morale. Monster.com confirms that three out of five workers feel more motivated to perform at their best when provided with small perks at the office, including better quality coffee.
In a loose translation – if you brew coffee in an old, crusty machine, you could send your productive workers running to the local coffee shop, wasting precious time in a jam-packed workday. Fortunately, an office coffee service can include a commercial coffee machine as part of your contract for a very palatable cost - free!
How a commercial coffee maker can benefit your business
As part of their typical services, an office coffee company will provide you with a state-of-the-art commercial coffee machine for free. This machine, which could cost $1000-$3000 brand-new, ensures your beverages will be fresh and piping hot each and every time. In addition, the company will also service your equipment by cleaning it every month and sending a repair technician to your location to fix problems - a service many businesses value as "priceless."
A commercial coffee maker manufactured from a top brand like BUNN or Fetco will typically connect directly to a waterline and is classified as an automatic brewer.
An automatic brewer of this kind may come with heavy-duty features to support an advanced brew capacity, like:
Dual voltage capabilities. Normally 120/240 V.
All stainless steel housing. Commercial quality.
Large brewing capacity. Up to 15 gallons per hour.
Attached hot water faucet. Provides hot water for tea, hot chocolate, or instant soup.
Thermal brewing carafes. May vary depending on model; can keep coffee hot for up to two hours after brewing.
Ensuring your commercial coffee maker stays free
While your commercial coffee maker won't cost you anything, you still must fulfill certain requirements to keep it that way.
Here are several pricing factors to consider that could impact the total cost of your "free" equipment:
1. Order a minimum amount of product each month to earn free equipment. Since office coffee companies don't want to force businesses to purchase more than they need, they may waive the monthly minimum in lieu of a rental charge. By paying up to $50 per month to rent your commercial coffee machine, you can order as little (or as much) coffee as you want and still maintain full use of the equipment.
2. Extra charges apply to model upgrades. A coffee service may only offer a certain kind of commercial coffee machine for free and charge extra for specific models. Check with the office coffee company to find out what equipment they offer to ensure it's suitable for you and your employees.
3. Additional utility charges. Some coffee machines only appear to be free but will actually cost you money in other ways. As mentioned above, automatic brewing systems hook up to your waterline for an immediate source of hot water. If you don't already have the setup in place, you could pay hundreds of dollars for installation and hardware and hundreds of dollars more every two to three months for replacement cartridges.
4. Limitations within your contract. Your commercial coffee machine is only free for the duration of your contract with the vendor. If you cancel service or switch to another vendor, you must return the equipment immediately.
Ready to Compare Office Coffee Services Price Quotes?