The Right Coffee Vending Machines Can Actually Boost Business Profit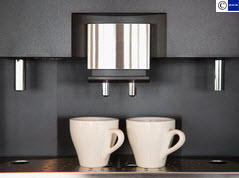 If you manage a large facility like a hospital, business with many employees or an adult on-site college campus there are several reasons to consider coffee vending machines in high-traffic areas:
Instantly increase profit for your business
Coffee concessions can dispense coffee exclusively, as well as a wide-range of hot beverages like assorted teas, hot chocolate, cappuccinos, espressos, and even soups and broths. You can offer a variety of drinks from the top name brands to organic and gourmet blends. A single vending machine can dispense up to 600-1200 single-serve cups per day at standard or large capacity.
Cater to the needs of the public
The 2013 National Coffee Statistics state that 80% of Americans drink coffee with a combined average of 400 million cups per day. Stalwart coffee drinkers spend an average of 45 hours or one full working day each year just waiting to purchase one cup of coffee. The average cost of a cup of coffee is $2.98.
With an in-house coffee vending machine you can improve productivity, make a profit and save your employees and visitors money.
What to consider before buying a coffee or espresso vending machine
With a quick Internet search, it's plain to see that selections are vast in vending machines that dispense coffee, espresso, or specialty coffee drinks for a small charge.
Before you put your money where your mouth is, it's helpful to understand the ins and outs of how coffee vending works and how it will impact your business:
Simplified setup. You need only a connection to a water line and an outlet for electricity to offer coffee concessions to your customers and employees. A bill acceptor and coin slot will allow customers and employees to pay with cash and receive their drink in just seconds. You can program the price of each cup and allow users to select the strength, intensity, and volume for their cup of coffee. A shut-off mechanism will kick in to prevent excess dripping after the machine dispenses a beverage.


Customization to fit your customer base. You have many customization options for your coffee concessions. You can select an old-fashioned machine or a modernized, sleek model. If floor space is limited, you can request a more compact countertop model. The machine can use ground coffee or feature a grinder to grind beans fresh at the press of a button.


If you are providing coffee vending for your staff, you can forgo disposable cups and let employees use their personal mugs. You may even be able to display your corporate logo on the machine.

Effortless payment options. In this day and age, fewer and fewer people travel with cash or coins on hand. To make purchases stress-free, vending machines are now equipped with credit card machines, as well as traditional cash and coin inputs. Newer vending technologies include the Zip Cashless System that provides employees with a plastic key to make purchases without the need for cash or credit. The key can be recharged directly through the vending machine to add more money onto an account.


Third-party stocking and maintenance. A provider can set you up with vending machines and take the grunt work out of maintaining it. The provider stocks your machine with the beverages you choose. They also clean the inside and outside thoroughly and make sure it's working properly.
When you work with a provider, you sign a monthly contract detailing how much supply you need and what maintenance work you require. For an additional nominal fee, the provider will also stock the machine with consumables from sugar and creamer to cups, lids, and stirrers.
What kind of profit can you make?
Prices for the larger heavyweight coffee vending machines (giving 15 selections) start at around $6,700 new, with some companies offering re-manufactured condition or clean and tested units of this size for less than $3,000. The smaller vending machine with 4 selections can cost as little as $280. Mid-range machines can start around $500 to a high of around $5,000.
Let's say you purchase a used coffee vending machine for $800. It is yours. You own it. You may want to consider a service contract but for the sake of this analysis we will not include it. You offer 10 selections; however, you keep dry coffee creamer, sweeteners and stir sticks on a counter next to the machine. Some of the selections will cost more than others, but for the sake of argument, the average cup of hot liquid is 50 cents. When you add in the side condiments, a cup of coffee, hot chocolate, tea, etc. will average 60 cents.
You charge $1.00 across the board for each selection. (More than likely your decaffeinated coffee and soups will be more). You have 50 employees who each purchase at the machine twice a day, five days a week. Your income per week would be $500. Your cost per week would be $300. Your profit (not including water and electricity) would be $200 per week.
The $800 machine would pay for itself in four weeks. For 48 additional weeks you will be able to put $9,600 to your bottom line. This figure is very conservative and depends on how many employees and visitors you have plus what kind of deal you can make with your product supplier.
Ready to Compare Office Coffee Services Price Quotes?